After purchasing a roadster about a decade ago I soon realized that this specific form of transportation had its own set of challenges in Canada. The obvious one is the shortened summer and unpredictable weather and that the ambient temperature of our Fall and Spring evenings frequently drop below 15 degrees celsius. The other challenge is that our roads take such a beating every winter due to the frigid winter temperatures and the usage of road salt. While the former challenge could be remedied with gloves and the heated seats, the latter simply resulted in me driving the vehicle less, thus making each occasion an event to be savoured.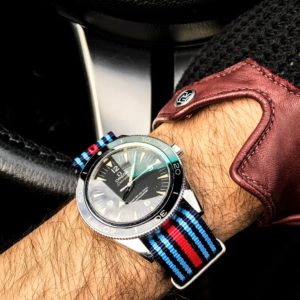 I learned very quickly that even on summer evenings my hands required some sort of protection from the elements and that is when I decided to get a pair of driving gloves. This decision was not one that I was happy about. When ever I had seen another driver with a pair of driving gloves, it simply looked like they were wearing a costume trying to look the part of what ever life style they had just spent tens to hundreds of thousands of dollars on. I had reluctantly gotten a couple of pairs here and there with every passing summer until I landed on the Stringback gloves by Autodromo a few years ago. Upon their release, these gloves were a hit and the all black were constantly sold out for good reason. Having already purchased a watch from Autodromo I was sure of the quality and was not disappointed upon receiving them.
The gloves are overwhelmingly comfortable and offer the warmth required while still being breathable enough to keep wearing for when the sun breaks through the clouds and starts to heat the top of your hands. Over the last few years, the "stringback" material has only shown minimal signs of wear and the leather still looks brand new.
I would highly recommend these gloves. Even at their asking price of $125 USD for other companies charge similar and often multiple times this for essentially an inferior product. If you reside in Canada though, the price is a little harder to justify. Back when I purchased my pair, the difference between our colourful currency and that of the States was not as vast as it is today. Factor in the import taxes and you're looking to spend around $190 which is still within the ballpark of similar products at retail stores in Canada.
Over the years however I have discovered a product which is about a fifth of the price and solves the only issue that I have had with these gloves. These gloves are very attractive and they seemingly force the eyeballs of other drivers at traffic lights and that of passing pedestrians to stare at them, and thus you the driver. I tend to drive with the roof up within the city, but this does not help for people then crane their neck awkwardly to see who is wearing these gloves.
I recommend buying a pair of Microfibre All Weather Golf Gloves from Nike as your driving gloves if you want to save money, not attract unwarranted attention to yourself, and want to simply keep your hands warm. In addition to not using the gloves at the range, these golf gloves should last you years as well.
If you appreciate great craftsmanship, do not mind the undue attention from dozens of strangers with each drive, and want to look the part of someone who appreciates motoring history going back to the 1950's when fornicating was safe and driving was dangerous, then these gloves are for you.
Time of writing – June 19th 2018