Introduction
All it took was for the sun to hit the anti-reflective coating of my then-new Monarch Orange Avalon for me to start realising what was on my wrist. Sure I was impressed with the build quality upon initially seeing it. Seated next to me, my friend (who also is an Avalon owner) can attest to the exact moment it hit me – this is the best mechanical dive watch for an actual diver on the market.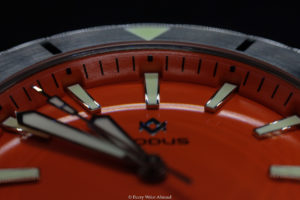 To be clear, this is only from the perspective of a diver who was not born into wealth, and someone who would rather put the hundreds to thousands of dollars that would go into repairing a luxury dive watch into his community.
The reason why this is not a full review is because of what quickly happened after this moment. I had known Wes and Cullen of Nodus Watches before I bought the Avalon, but after this we came to speak on a more regular basis. Furthermore, I consider them friends, who because of their hard work and astounding quality of character, deserve support when possible. To be clear, Nodus are not the only independent watchmakers and watch brands with whom I have formed such friendships. As a result of this and any possible bias, I can not and will not write a typical review for I genuinely believe in the great Nodus project on a personal level.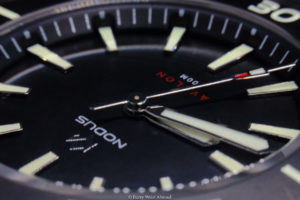 However, what I will do here is suggest the Avalon as a template for other watchmakers and brands. If they are interested in making a dive watch that a frequent diver would actually want, and more importantly use, these are the characteristics that make a good and serviceable mechanical dive watch. 
The Case Size & Depth Rating
Overly thick dive watches that are not quartz miss the mark on most occasions. Their excessive size in the name of toughness, whether that be for depth rating or impact resistance is useless. Not only are depths past 100 metres rarely ever reached for technical divers on closed-circuit-rebreather systems (CCR), but any real shock resistance is negated using a mechanical movement. We will revisit shock resistance in the next section so hold onto that thought for the time being. The 300 metre depth rating is fine for the most part, but anything with a screwed-down crown and a rating of 100 metres is more than enough.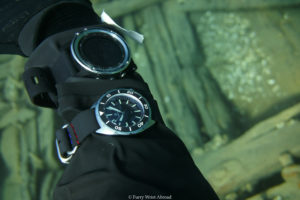 A thinner case also allows the watch to be more accommodating and to not catch onto buoyancy compensation devices or other pieces of gear as divers are getting ready for their dive. The Avalon has a thickness of 12.9mm. A thin case profile also results in a watch that is not as eye-catching. This surprisingly comes in handy since most attractive dive destinations are in remote or unsafe locations. The last thing divers want to do is compromise their safety due to needlessly making themselves a target.
The Movement
It is a fact that due to their extra moving parts, mechanical movements are not as shockproof as their quartz counterparts. The Miyota 9039 automatic movement offers a few benefits for those who must dive with a mechanical watch for some reason.
It is thin, allowing a thinner case. It is very accurate for a movement in this price range. Both of my Avalons each are just a couple of seconds slow a day. My Phantom Black Avalon has seen more wrist time than my Monarch Orange example and they still perform on an equal level. Like all other watches by Nodus, this is due to each movement being carefully regulated and put through scrutiny by the founders of Nodus themselves before shipping the watches to their customers.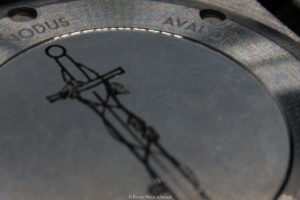 The most important and often-overlooked factors by other venues who write about such topics are the servicing and replacement costs for such movements. Having a movement such as this Miyota, or that of a commonly used Seiko allows for a certain peace of mind. This comes from knowing that if a damaging impact were to occur to such a watch, or damage through excessive wear and tear, one would not have pay a lot of money to get the watch serviced. In some cases it is simply easier and economical to just replace such movements during the service.
Furthermore, the Miyota in my Monarch Orange Avalon performed admirably when put through some stress tests. The Avalon only lost a couple of seconds during these small tests. These were after a couple of 5 kilometre sprint interval sessions, and after a cold weather test of being left in a pile of snow in minus ten degrees Celsius . Cold-weather reliability matters to some divers since water temperatures can easily be a few degrees above the freezing point at depth. Other commonly used movements (from ETA for example) have shown a much greater variance in performance and accuracy when I subjected them to similar conditions.
Standard Lugs
While the bracelet provided is of excellent quality and supremely comfortable, the standard 20mm lugs are key. They allow for custom straps to be fitted to the Avalon, thus allowing it to be worn with varying exposure suits with ease.
Lume
The lume performance on the Avalon is perfectly serviceable. Most dives on a single tank will not exceed 45 minutes. For this duration of time the Avalon's lume burns well enough to be easily legible in all conditions. It will not burn as bright as certain Seiko MarineMasters, nor will it burn bright throughout the night as you sleep. If a brand has to allocate their resources towards certain aspects of their design, I would prefer a viable and functional performance for the lume rather than making sacrifices elsewhere.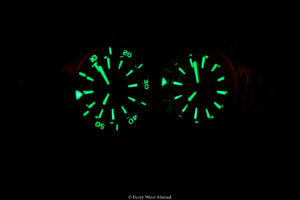 The valued cool factor of having what enthusiasts call a "retina-burning lume" is understandable, but not ultimately relevant. The C3 Super-Luminova used also has a green hue to it. During the day it makes the watch seem to be standing at attention and gives this timepiece a unique character that brings a smile to the wearers face.
Bezel
The bezel on a dive watch (contrary to popular belief) should not be overly stiff. Once divers' equipment is on, they will not bump into anything outside of an emergency situation once under water. Thus, being concerned with the bezel accidentally moving is something that I personally have never come across. This is further aided by having multiple dive computers measuring lifesaving metrics. The bezel is fine as long as the bezel can be operated when wet with wet hands without having to resort to applying lots of pressure. Both the ceramic and steel bezels will attract marks as time goes on, but this just adds to the character of the watch. Lastly, past certain depths the dive bezel may become harder to operate due to the increased pressure. Having an already stiff bezel may just make it uncomfortable to use past 60 feet underwater.
Legibility
Though I have only taken the Phantom Black Avalon diving, there are some principles that made this the case. A highly contrasted dial, markers and hands make for a viable tool underwater. The watch which I use the most on dives does this very effectively, and that watch is the Seiko MarineMaster SBBN025. While diving with either the Phantom Black Avalon or the aforementioned Seiko, their astounding legibility allows for easy legibility out of the periphery of one's vision. This is important for there are many other factors I would rather be focused on than trying to decipher the time. I have taken dive watches with various coloured dials underwater and I have found watches with black dials, white markers, white hands, and polished outlining to the hands and markers the best. The polished outlining of the hands and markers allow for the light to catch these features further aiding in legibility.
The non-reflective dials of the Avalons are also highly appreciated. If too reflective, on bright days one can be temporarily blinded by a reflective or highly polished watch. It puzzles me to see dive watches with reflective dials on the market because of this.
Quality
The main reason why people would dive with a mechanical dive watch is because of their love for mechanical watches. The quality of the Avalon and its CNC-machined 316L surgical-grade stainless steel case make falling in love with the watch all too easy. The overwhelming sense of quality that one receives from a Rolex is something that nearly had me seeking a Sea Dweller last year. Surprisingly I felt the same sense when first wearing the Avalon. For the price point, the Nodus Avalon's sense of reassurance by its quality throughout will ignite your inner horology enthusiast. It wears on your wrist with a feeling of security, confidence and unequivocal aptitude. This will result in the confidence required to use such a tool.
Furthermore, the level of quality and attention to detail with this watch makes me want to wear it. I bought the Phantom Black Avalon for the sole purpose to take it diving after owning the Monarch Orange Avalon for a couple of weeks. The dial's details of the markers cutting into the chapter ring are just one example of what makes this watch one that I actually want to wear. 
Closing Thoughts
Your sense of romanticism, adventure, and appreciation for craftsmanship brings you to such wonderful sites and magazines such as The Matick. These notions that we value and love to explore, however, can be taken advantage of by watch brands. Through expensive marketing campaigns and misinformation spread by consumers trying to justify their purchases, you may be led astray into buying something that you may not ever need. Furthermore, you may end up regretting the purchase. Purchasing and owning something because it is overly engineered is something that I too have done in the past. It is important to make an informed purchasing decision especially if you ever intend to use these watches for their advertised purpose. The visual of diving with a meticulously crafted companion on one's wrist is something that we have been sold quite effectively over the years. Even if you never plan on diving with your watch, knowing all of the above-stated facts may dissuade you from spending a lot of money for a false power-fantasy not grounded in any truth. Thus if you are looking for a mechanical dive watch that would in reality be used with comfort as a tool, look no further than the Nodus Avalon.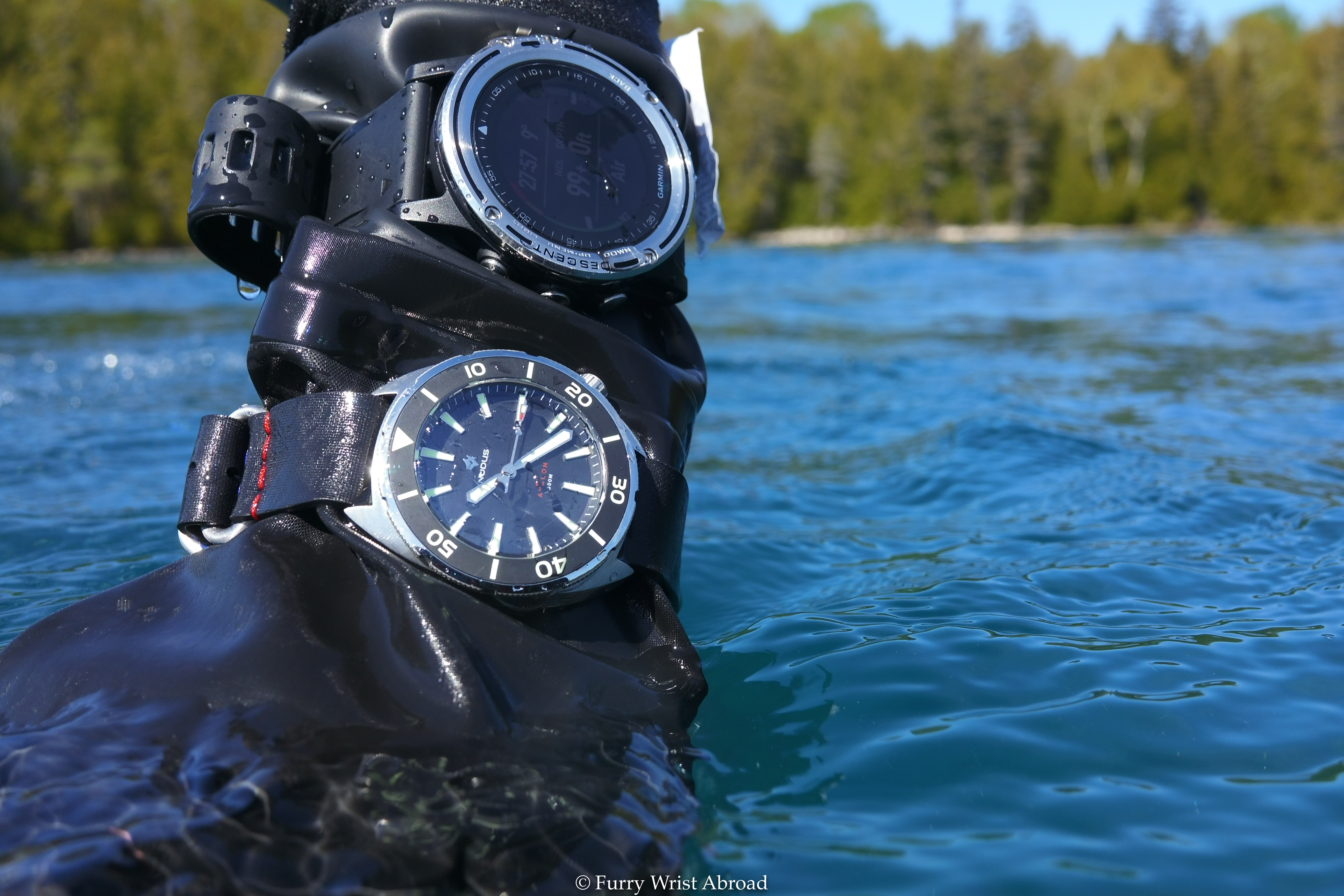 I would advise other watch brands to make dive watches similar to the wonderful Avalon if they genuinely care about their timepieces being used in their intended and advertised environments. It is because of the two years of hard work in developing the Avalon that has resulted in what I believe to be the best all around mechanical dive watch on the market. This is why I find myself having a difficult time reaching for another non-quartz powered watch for my dives. Thank you Nodus for making this watch. It is my hope that other brands will learn from this watch and make watches that are actually desirable for those of us who love to explore our underwater world.