Introduction:
Disclaimer: Everette Meadows, who is a co-founder of Foster Watch Company, is also a partner for The WatchClicker online publication, which I write for. As a result, this is not a review of the 11 Atmos by Foster. It is instead an article about insights into the watch enthusiast community and the lessons we can derive from the avenues they turn towards for joy.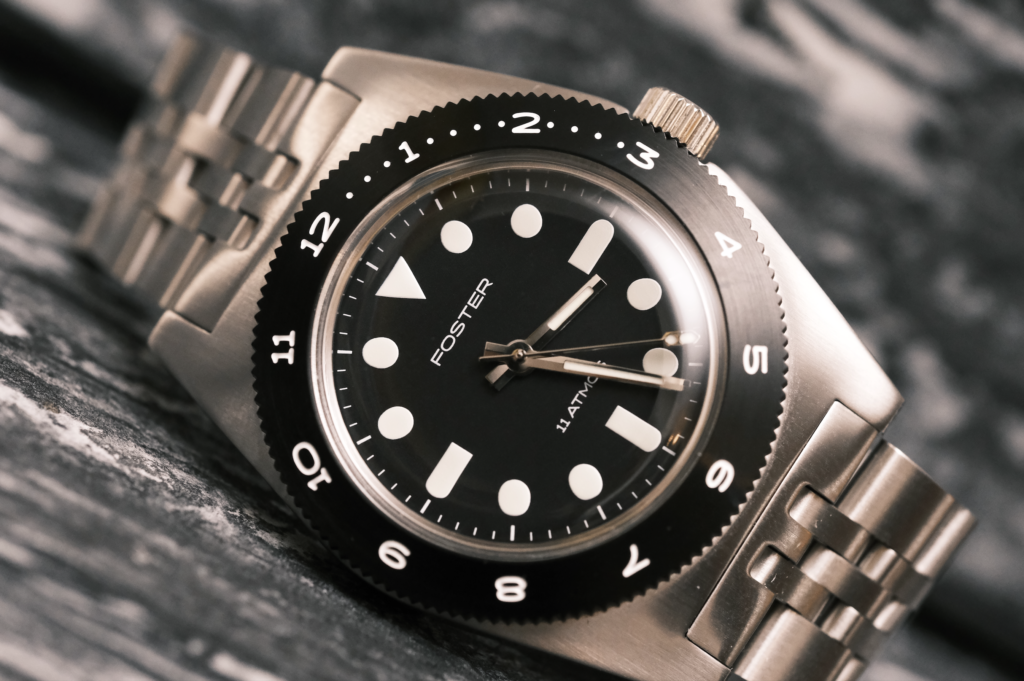 The 11 Atmos was the least researched watch purchase I had ever made. This was due to two reasons. First, I wanted to support Foster Watch Company, for it is not only led by two wonderful people, but those whom they turned toward in helping to make their first watch are also people with a proven track record of being outstanding human beings. The second was simply due to strained bandwidth. On top of an escalated work schedule, every free moment was spent reading articles and journals, to hearing firsthand and reading about the difficulties of living under China's Zero-Covid policy, tales from those who fled their southern Ukrainian towns only to return to a wasteland which is only minutes away from a slaughterhouse witnessing trench warfare on cold soil which is too hard to dig any trenches, to not hearing from loved ones for weeks in a country where executions, ethnic cleansing and genuine terror are now commonplace, to just last night listening to the heartbreaking story about a friend being forced out of their home by developers and not being able to afford to live anywhere close to the city of Toronto. I was so strained for time that I almost missed the initial release of the watch, only to have a friend remind me and send a link for the purchase. Even after receiving the watch, all I had time to do was take a quick photograph and post about my excitement about the watch.  I did not even have the time or wherewithal to look at Foster's webpage and find out why the company was indeed called Foster before asking Christian Amondson (the brand's co-founder) through a direct message on Instagram in response to an earlier message.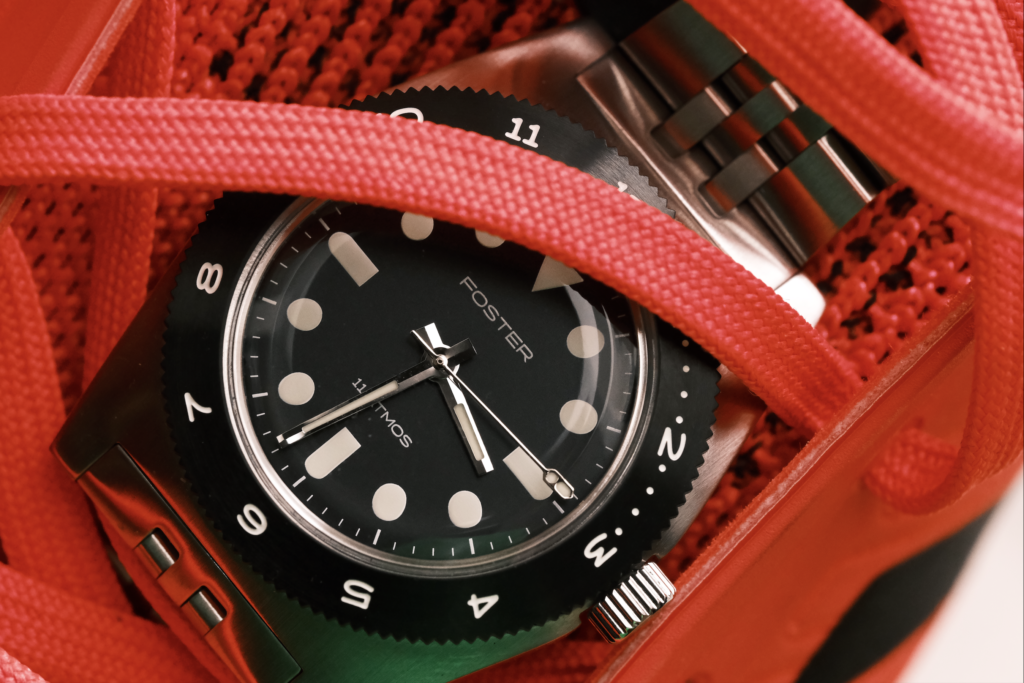 However, a few days after I first held the 11 Atmos, I noticed that this watch brought a smile to my face. The watch radiated joy.  The manner in which it presented its ebullience made me immediately think of a specific subset of watch enthusiasts and the joys that they bring to their surroundings through their never-ending keenness for the particular things that make them happy. This sect of watch enthusiasts is the hipster watch enthusiast. Before we go into detail as to why the 11 Atmos is a terrific watch, we must first explore the actual target audience for this watch and the lessons regarding joy that we can derive from observing them. For the reasons stated above, this year was one that could do with some additional sources of joy.
Why We Need to Explore the Hipster Watch Enthusiast
On Foster's website, the company's mission is stated: "In short, the 11 Atmos is a watch for everyone and for every situation. It's handsome and understated but functional and a pretty good time." After handling and wearing the watch, this is not entirely true. The 11 Atmos is a modern timepiece made to the dimensions and aesthetics of a vintage skin diver utilizing the very best manufacturing practices available for its $500 price bracket. Thus, resulting in a product that can be described as perfect. The average person is still accustomed to wrist-worn devices and watches that are, on average, 40mm in case size due to the adoption rate and desirability expressed by the market for Apple Watches and when observing the average size of men's watches in department stores. The use of an acrylic crystal cements the fact that this watch is for enthusiasts, for ordinary people not only do not have the first clue as to what Polywatch is, but they will not even entertain the idea of having to buff out scratches on the crystal of their watch continuously. Even I, a person who can comfortably be described as a watch enthusiast and collector that does not put up with acrylic crystals. This was due to wearing a traditional Speedmaster with a Hesalite crystal for years. I got tired of having to polish the crystal every few days. This is where we need a different perspective to appreciate the 11 Atmos, and this is where I introduce you to "Mac."
Meet Mac, a Wellspring of Joy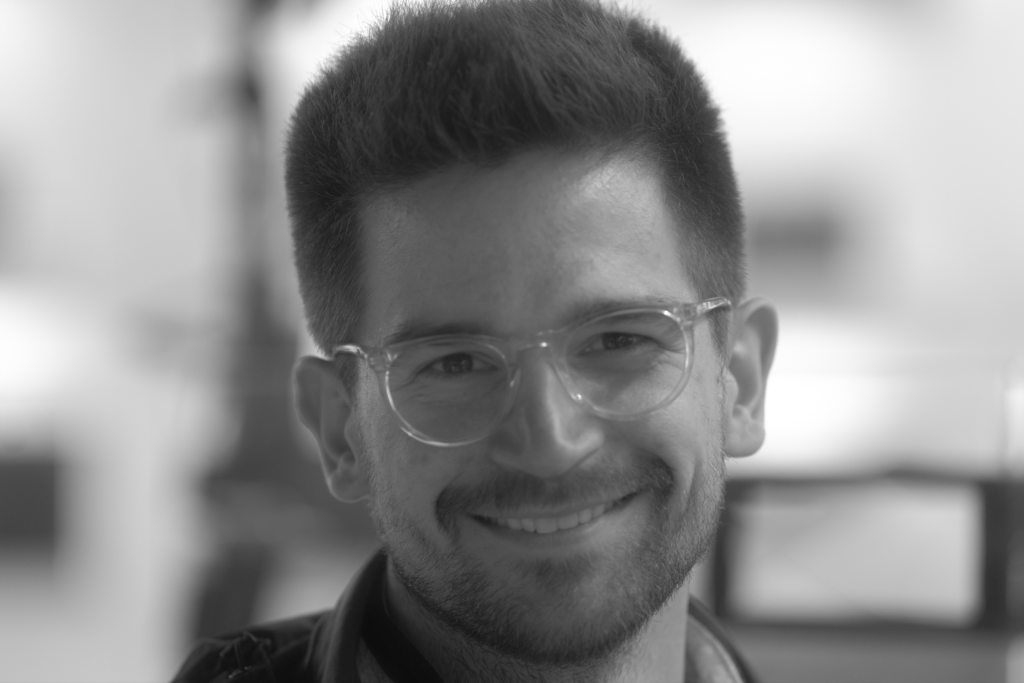 Mac is not one person but the accumulated embodiment of who the hipster watch enthusiast is. Pictured here (with his permission) is the one human I have come across with all of the positive traits of this group of humans, but he exhibits none of the negatives.
Mac enjoys tactile experiences. He surrounds himself with objects and tools that respond to his inputs with a level of feedback that is lost with modern devices. Though he is an accomplished photographer with his Sony Mirrorless system, Mac prefers to shoot film cameras. The photographs that can be achieved from film are far more organic than the digital files that his Sony system achieves. Still, more importantly, the tactile experience of shooting with an old camera made of gears injects a level of joy that no matter how hard Leica and FujiFilm try, they cannot come close to achieving with their digital camera bodies. Mac works behind a desk and out in the field, but while in front of his computer monitor, he finds ways to inject joy into his day. Instead of using the standard keyboards which regularly ship with desktops or those on this laptop, he opts for using mechanical keyboards. These keyboards are not just loud for the sake of being loud. Mac spends hours fine-tuning and calibrating each board for optimal response, resulting in a less tiring keyboard and one that pleases his eardrums and his fingertips. His wardrobe is lined with articles of clothing which are built to last and gain character over time. As they gain said character, their texture and look change according to their wear and tear. His car is an older model with a hydraulic power steering rack, giving him a superior road feel compared to modern electronic systems.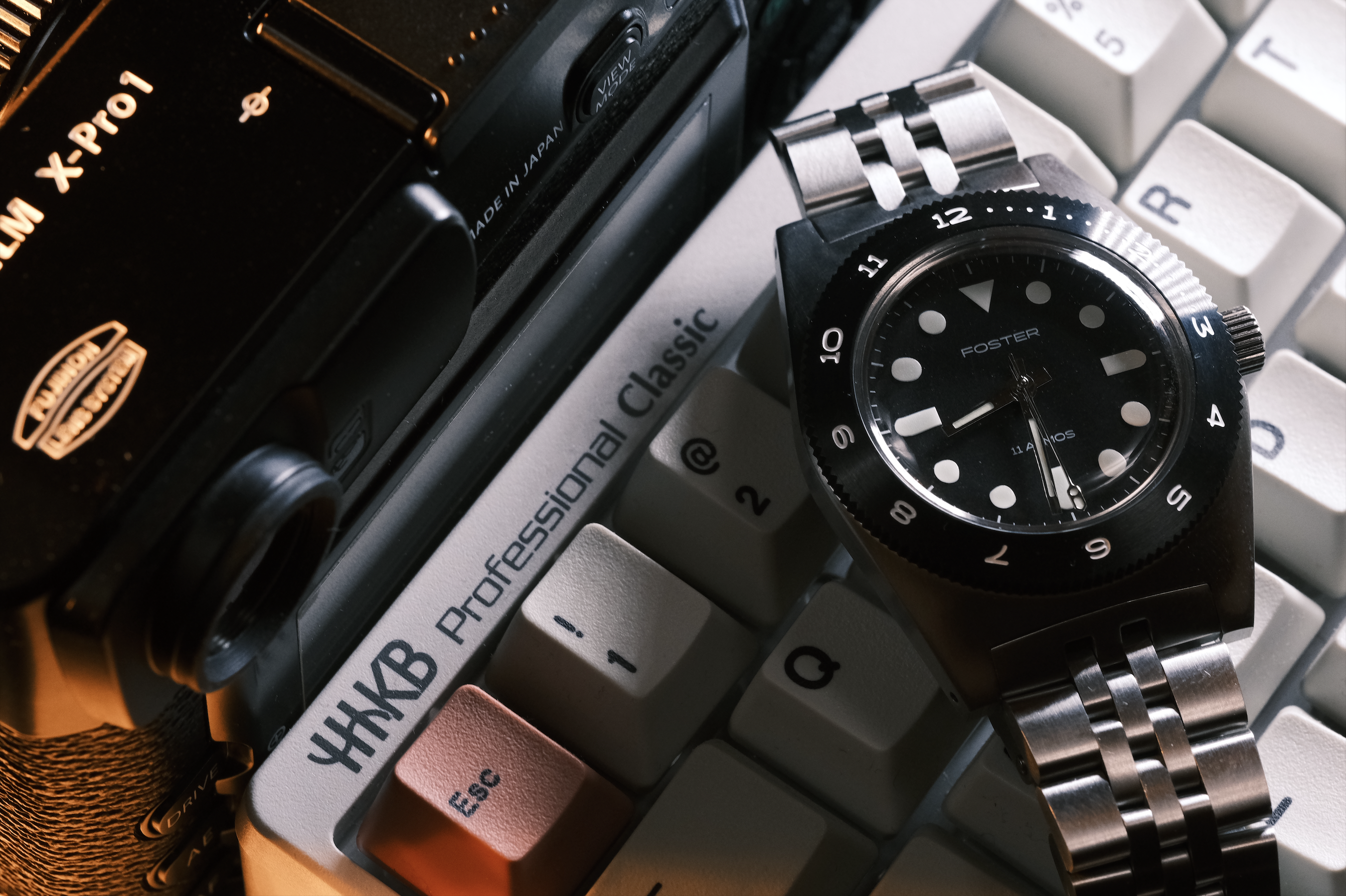 Mac's fascination with enhanced tactility being naturally ingrained in every facet of his life extends to his preference for watches. He prefers mechanical or high-accuracy grade quartz movements for starters. The hipster in him gravitates towards smaller watches below 40mm in case width. Mac also prefers the look of acrylic crystals so much that he may or may not have started an entire Instagram account devoted to acrylic crystals years ago. Acrylic crystals bend and warp light toward the dial without the sharp transitions most sapphire crystals exhibit. Watch enthusiasts and journalists call this result "warmer" or "more organic." Being enthralled with textures and tactile experiences, Mac can often be found running his fingers alongside the finishing of his Grand Seiko's bracelet as he waits for others to finish their serving of brunch before he can go to the buffet for seconds.
Now that you have been introduced to Mac and know what makes him tick, we can now look at the 11 Atmos and fully appreciate what Christian and Everette have achieved.
What the 11 Atmos Gets Right
Regardless of the target demographic, we will go over what this watch gets right and doing so in a commendable manner. This is because, for their first watch, Foster has made a masterpiece for the price point of $500 USD.
Fit and Finishing
First, I would like to cover a facet that other outlets have not covered which is the fit and finishing and the tolerances. This is an incredibly well-put-together watch. The bracelet endlinks fit so perfectly into the lug openings that they require more focus and effort. The use of quick-release spring bars alongside drilled lugs is appreciated. This is not a watch in which the owner can let the endlink's spring bars slide into place. One must be deliberate in ensuring that the endlink is lined up properly. Using a small shelf (pictured below) for the endlink to fit within the lugs adds to this sense of rigidity and high tolerance fitting.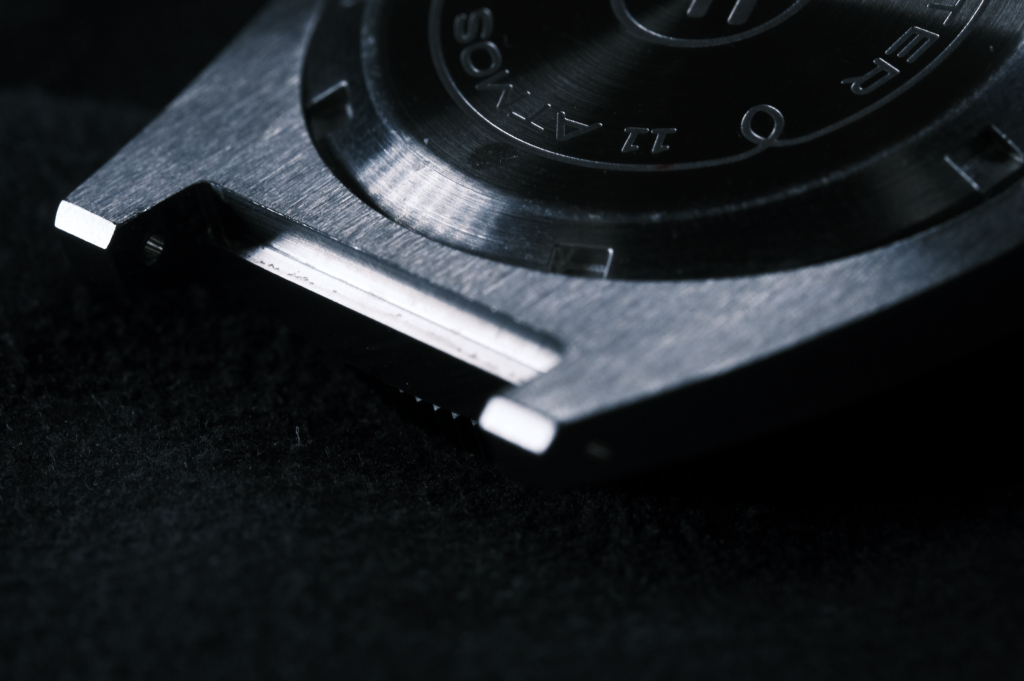 This endlink will not move around and have gaps visible. The downside of this is that normal straps, like that of the supplied tropic strap, is that they do not articulate all that well. This is only an issue when one wants to store the watch and fold the longer strap underneath the watch. This results in a watch that will not fit in a watch roll or pouch elegantly due to not folding flat.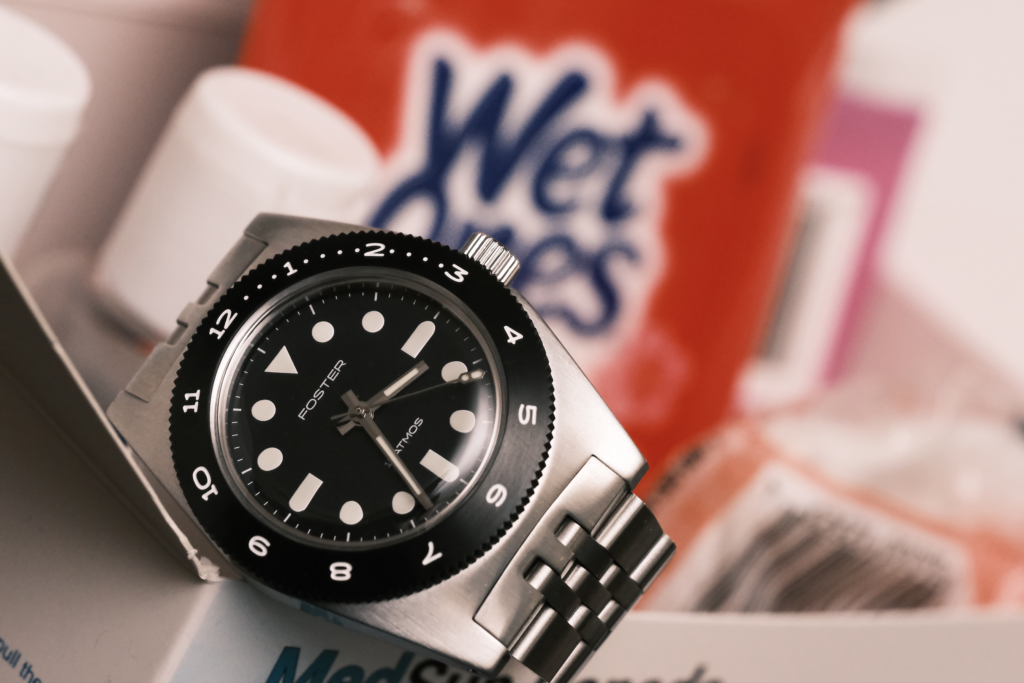 Second is the finishing on this watch and how uniform it is. A cynical person can point out that making a flatly brushed watch takes less effort, but the brushing on the bracelet and the case are in perfect harmony. Only the clasp has its outlining on the top polished. The case's complex surfacing, which gradually slopes upwards toward the bezel from the lugs, creates an incredibly beautiful sight to see.
"Light Play"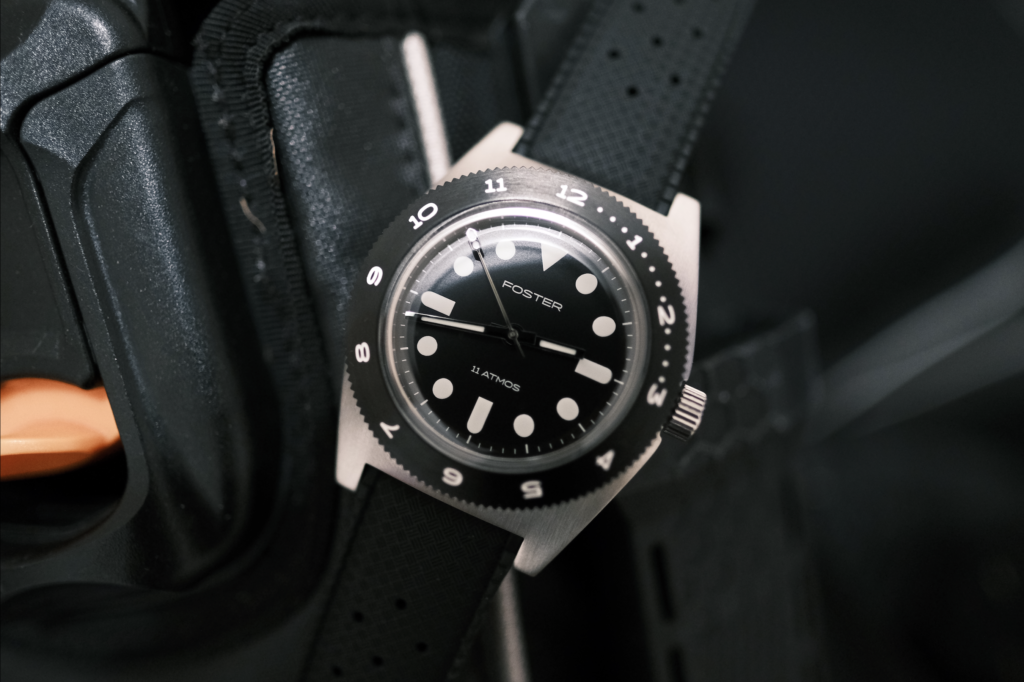 Third, this brings us to how one's eyes interact with this watch and its relationship with light. This is the one area that should tip off most people that Everette and Christian are not just two dudes who made a watch. They are incredibly bright and have an eye for detail, which is very apparent here. Watch enthusiasts such as Mac refer to this interaction with the watch as "light play," and the 11 Atmos does this better than any watch I have encountered below the $800 price point. At every point on the surface of this watch, light bounces off incredibly smoothly and uniformly. This extends to the black PVD bezel and the acrylic crystal, which softens the impact of light on the beautiful black dial. The indices glow softly and hold up under a loupe in terms of application. The polished hands ensure excellent legibility, and their faceting down the middle directs light at an angle toward the wearer's eyes. This watch is literally easy on the eyes.
Tactility and Engagement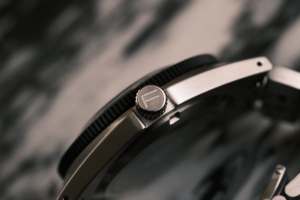 Fourth, the points of engagement with this watch have been executed perfectly. The bezel is the first thing that owners and reviewers comment on. This is for a good reason, for it is perfect. The action of every single of the 48 clicks is positive, responsive, sturdy, has zero-play, well defined and audibly pleasant.
The beautifully signed crown exhibits almost all of these strengths, save for the slightest wobble when fully extended. According to a brand owner who has years of experience when it comes to manufacturing watches, some crown mechanisms utilize a wobble to get a better seal. As a result of knowing this, this crown is, again, like the bezel, perfect.
The Bracelet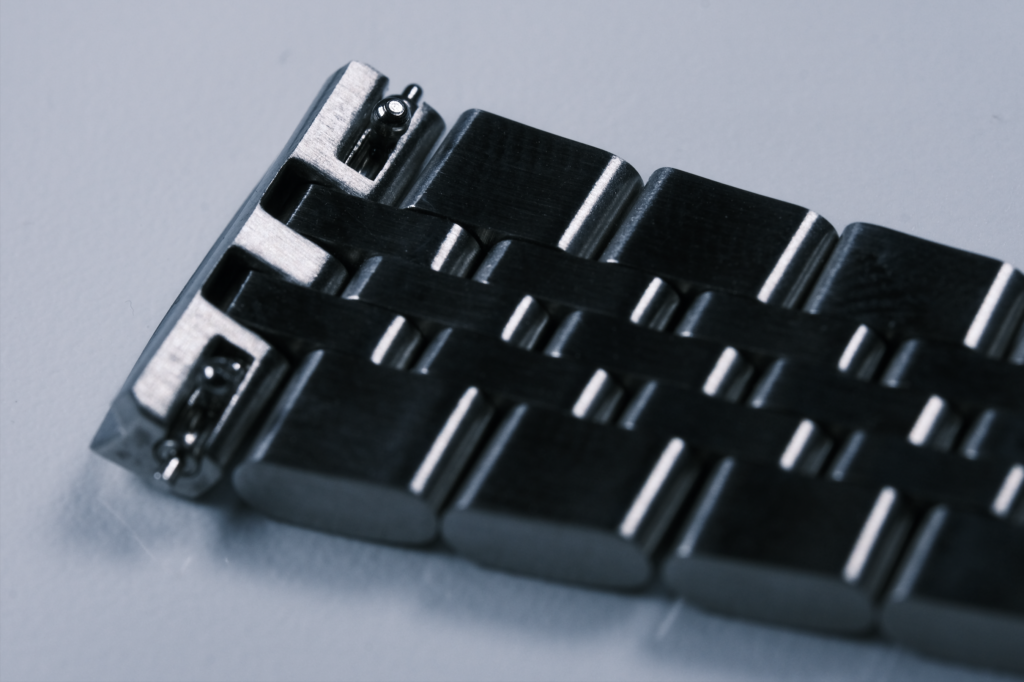 The brushed finish and the articulation of the five-link bracelet are flawless. Furthermore, this bracelet uses high-quality screws for easy sizing. Once again, this could be the best bracelet for a watch at this price point. The signed clasp is firm and secure. My example required the same force to open, much like modern Tudors, which brings us to an unexpected feature of this clasp. Watches such as Tudors and Rolexes use small ceramic balls as detents in their clasp to soften the tactile experience of the clasp locking. The 11 Atmos does this with an additional spring bar, which adds to the tactile experience of this watch. Using a spring bar and not having it friction-fitted like many watches in this price range, the 11 Atmos is incredibly secure and a joy to use.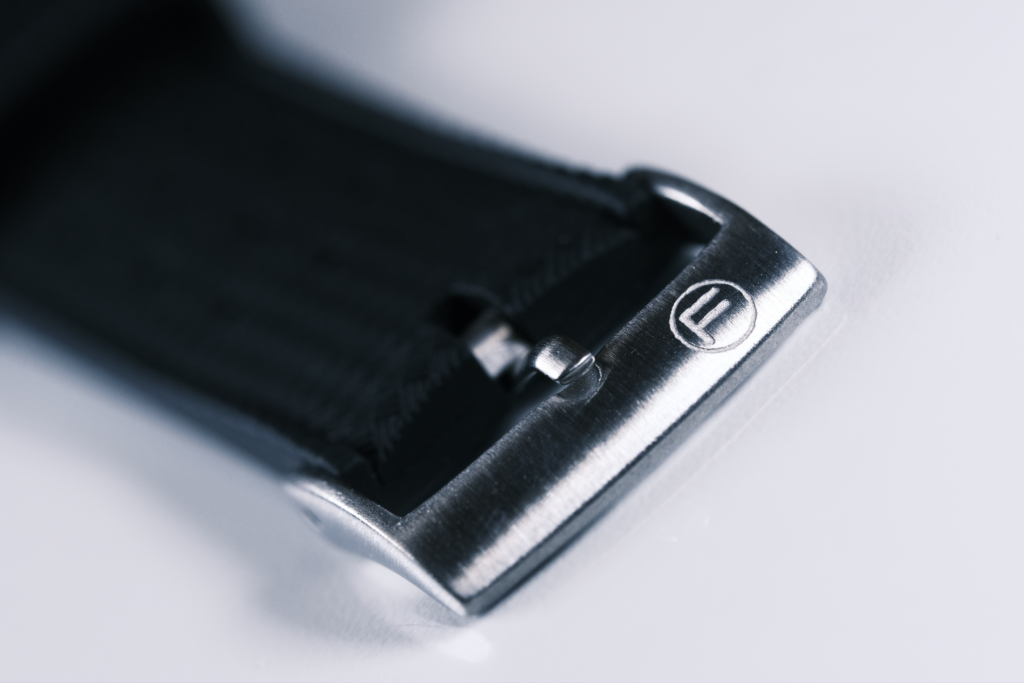 The Tropic strap uses a signed tang, and further drives home the vintage skin diver aesthetic. Underneath, the strap features a diamond relief pattern ensuring maximum comfort. Like the bracelet, this substantial strap also uses quick-release spring bars, even though the case has drilled lugs.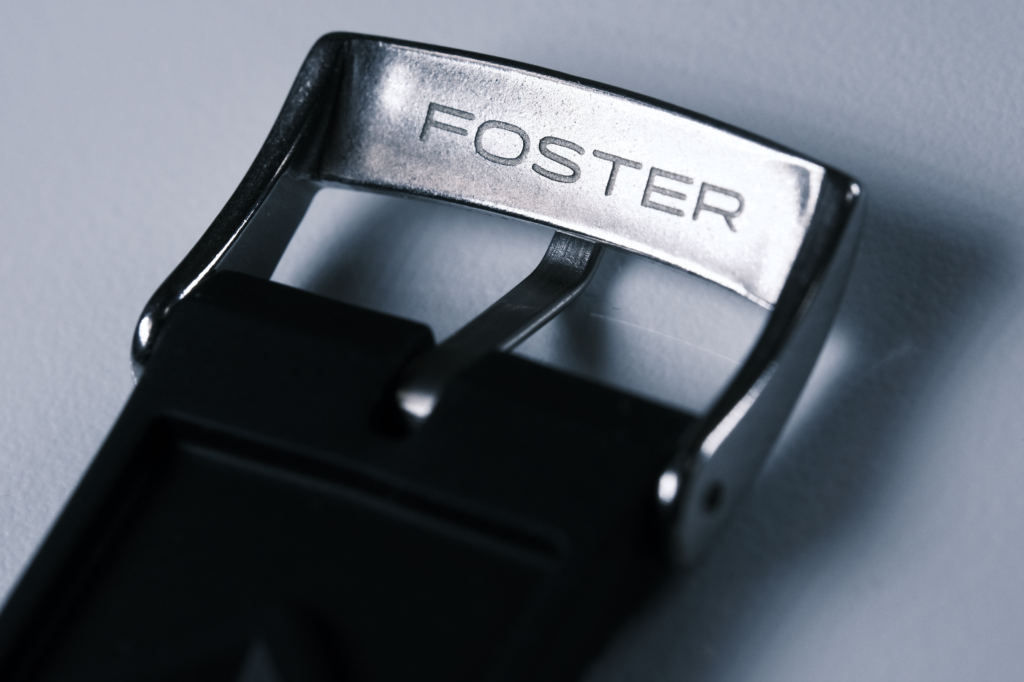 How the Watch Wears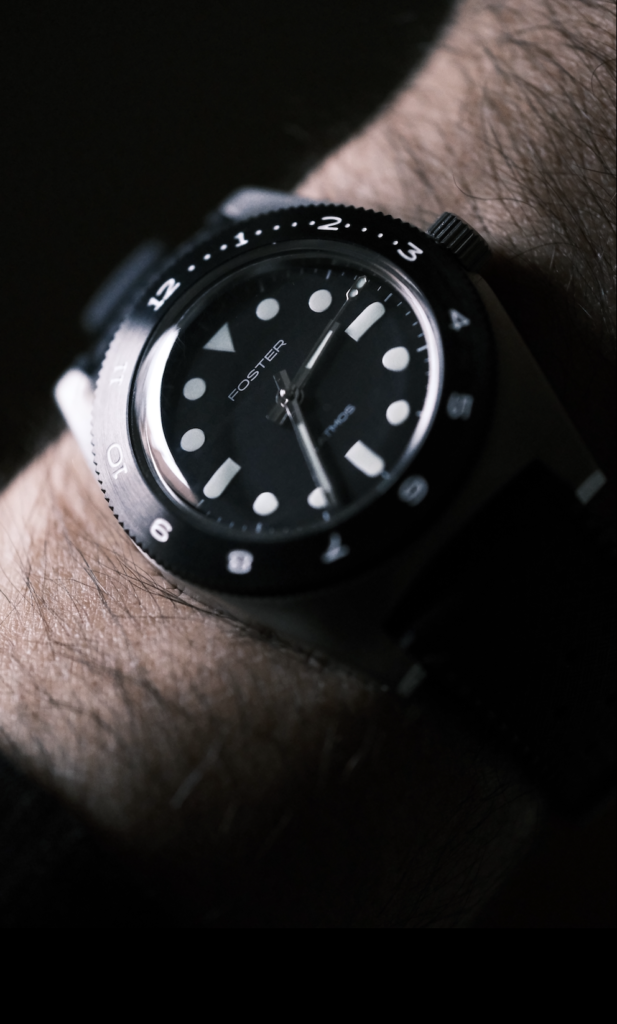 When you take all of this into account, plus the recessed caseback, you have a watch that wears incredibly well. Usually, a case that would be best described as a tapering rectangle would prove a challenge to hug one's wrist as well as the 11 Atmos does. When sized correctly, this skin diver literally becomes an extension of your skin. It fits under all but the tightest of cuffed shirts, and its excellent build quality ensures a secure fit that never calls attention to itself.
The effect of the watch's "light play" means that this is a watch that continues to please the wearer. In dim environments, different sections of the case are highlighted in an ever-changing manner. This is a watch that you will not get bored of and will make the occasions that you need to check the time a more pleasant one as a result. In bright environments, the extreme care that went into its uniformity in finishing simply results in the watch blaring its excellence to those fortunate enough to own one. The acrylic crystal softens the impact of the black dial, which in brighter settings looks like a dark grey due to its subtle matte texture. However, the acrylic crystal will wash out completely if a strong light source is directly above the watch. Sapphire crystals use anti-reflective coatings to negate this, and this would be nearly impossible to accomplish with an acrylic crystal. Not having the top completely flat and slightly curved will help slightly, but not enough to warrant a change in its design.
When operating the bezel while on wrist, the tight tolerances mean that the watch's fit with its bracelet does not distort as the bezel is turned. An additional detail which once again proves that the brains at Foster are more intelligent than your standard lot is the additional dots between 12 and 3 on the bezel. If one was to use this bezel for elapsed timing, the dots visually make it easier to quickly take note of the first 15 mins of the event being timed. Dive watches typically have a special treatment for the first 15 or 20 minutes on their bezels, which is highly appreciated.
The bracelet is also incredibly smooth and will not catch on any fabric. It is also smooth to the touch, and I found myself gently rubbing my fingertips along the bracelet's five links as I checked the time. This is where the Foster 11 Atmos excels and why it is perfect for Mac.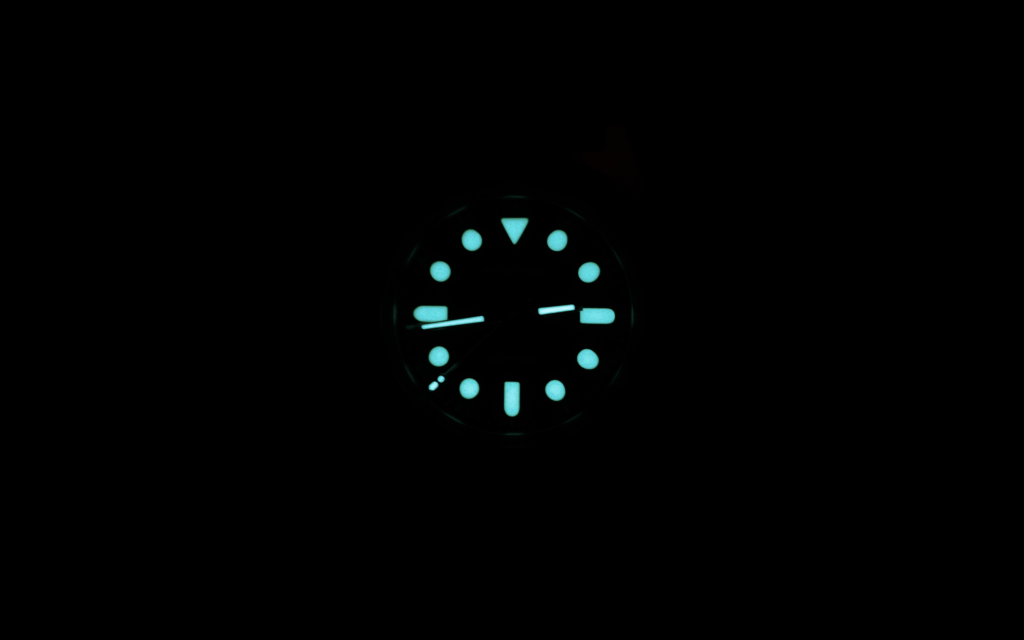 One of the benefits of its small 39mm case and its diminutive 28mm dial is that this sports watch will comfortably fit in during dressier occasions. Its PVD bezel adds a level of playfulness to it, which softens the sports watch motif. Would a brushed steel bezel have looked more fitting, as this is a watch inspired by vintage skin divers? It is probably the only thing I would change or have ordered differently if it was an option. The seconds hand mirrors those seen on vintage and modern Seiko's, but the added detail of having the lume split into two sections adds to the watch's overall sophistication.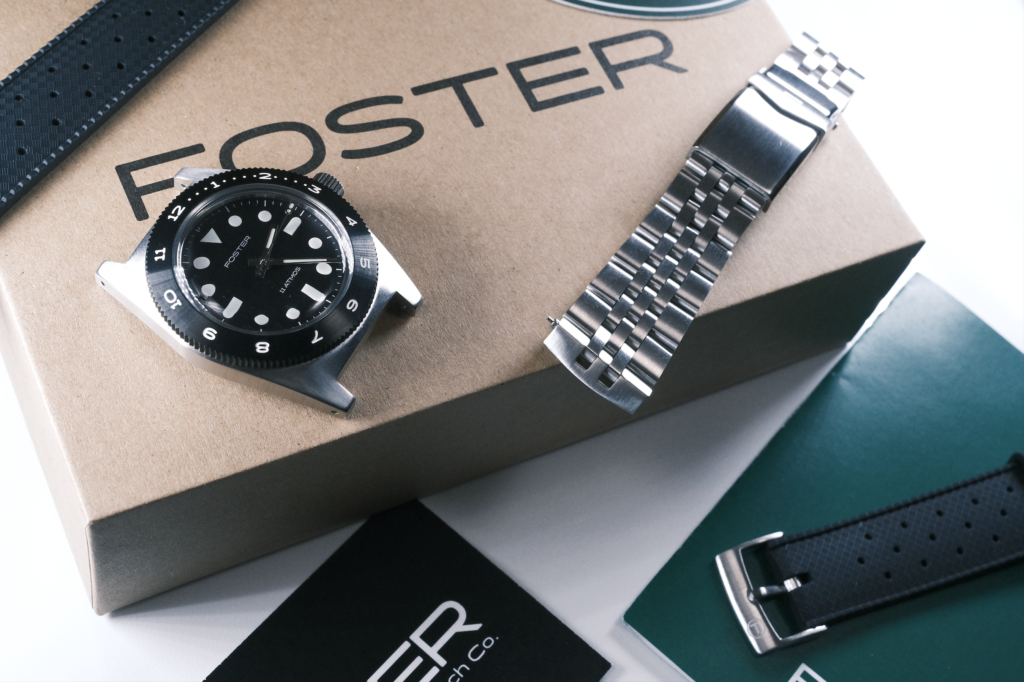 Final Thoughts
The biggest takeaway I have had with my time thus far with the 11 Atmos is how much joy it resonates. This level of joy resembles the feeling one has when in the company of folks such as Mac. Their attention to detail and pursuit of adding joy in every facet of their lives through tactile experiences is infectious. I have learned a lot from dozens of people who are "Macs" in their respective fields. Through their lens, I have learned to instill more joy into my life. I urge that you do the same, and a watch such as the 11 Atmos will go a long way toward helping you achieve this.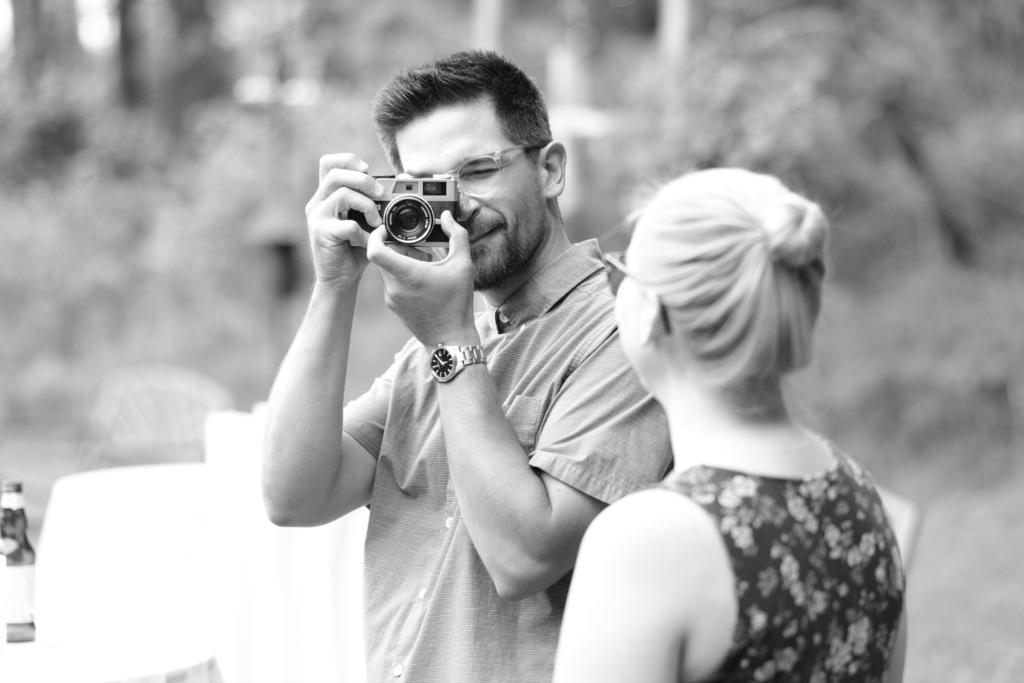 Specifications:
Case: 316L stainless steel
39mm
48mm lug to lug
Thickness: 12.1 mm
WR: 110m
Miyota 90S5 with 42 hours of power reserve
Time of writing, December 16th, 2022