Being ostensibly a "one watch guy" I had struggled in the past to make my desired daily watch adaptable to all situations thrown at it. That is primarily why I wear the little guy on a Nato or a pass-through strap for not having to continually take off and re-apply the spring bars has been the way to go for me.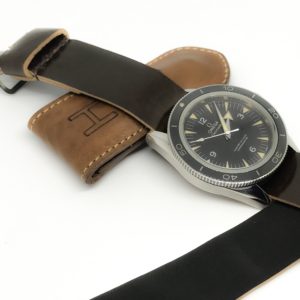 So, when the occasions arise where I have to wear a formal outfit, a Nato simply will not do. That is where Myron from Rover Haven came in for the rescue and I am absolutely delighted with the results.
Using what is essentially my favourite leather in Shell Cordovan, I asked Myron if he could make a brown and black strap for me for formal events, and man alive did he come through. If you have not handled Shell Cordovan, you probably will not fully understand my excitement and joy in wearing these straps. The texture, smell, durability, and promise of many years of wearability and patina make theses straps indispensable companions for my Seamaster 300.
Furthermore, check out his website http://www.roverhaven.com where there are many different types of straps on offer and a blog which I would categorize as articles instead for they are really well thought out and a pleasure to read as a fellow watch nerd.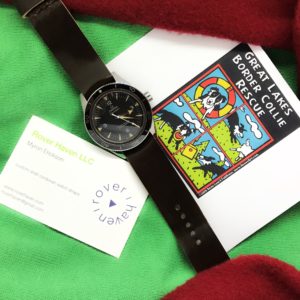 Lastly, Rover Haven supports the Great Lakes Border Collie Rescue http://www.greatlakesbcrescue.org which is an amazing cause and worth your attentions as well, especially during this holiday season.