When one thinks of the watch brand Hamilton, certain watches come to mind.
First and foremost is their Ventura which ushered in the era of timepieces being powered by an electric current and not a beating heart. The Ventura not only was a technical marvel, but a masterpiece of design which encapsulated the zeitgeist of the 1960's (originally debuted in 1957) perfectly with its futuristic asymmetrical case design during the space race era. Having Elvis Presley wear one on multiple occasions, the recent Men In Black movie series, and the more recent appearances in the influential AMC series Mad Men also helped cement this watch in cinema and culture.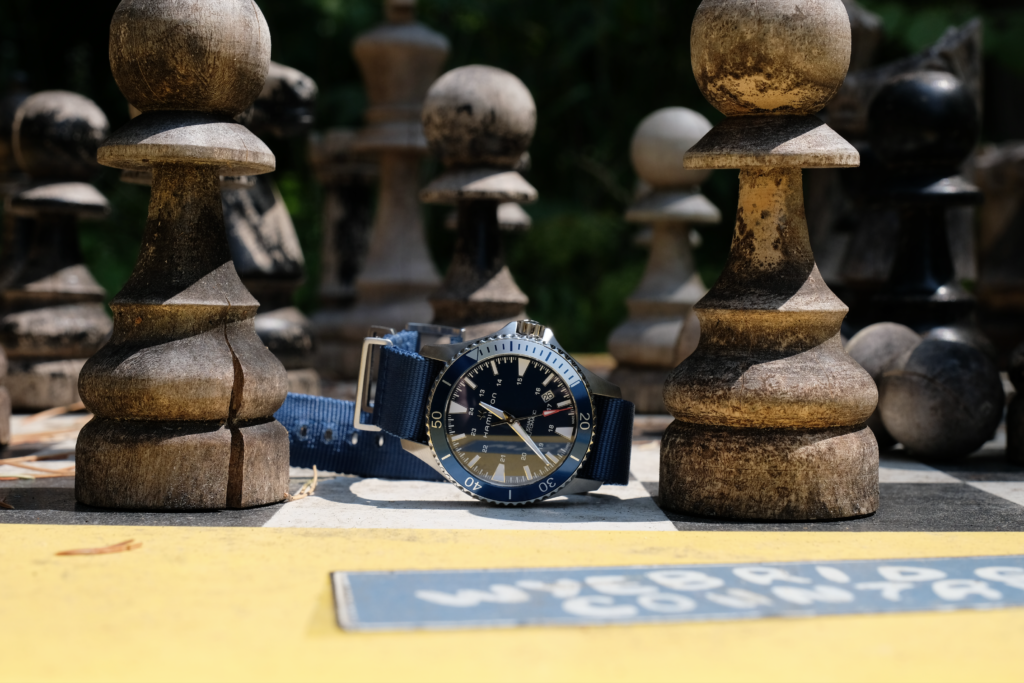 When one thinks of the watch brand Hamilton, one does not think of dive watches, though. As other brands paved the way for the dive watch genre as they competed against one another, Hamilton put their efforts elsewhere.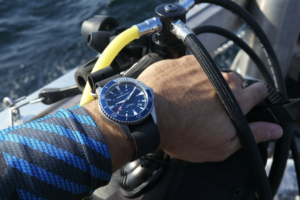 Unfortunately now every watch brand needs a series of dive watches to fill out their portfolio due to their popularity, and because of how functional and durable for daily life these dive instruments are.
This poses a challenge for Hamilton as they try to navigate their positioning not only within the marketplace at large, but within the Swatch Group. These other brands which have offerings roughly in the same price range are Longines, Rado, and Tissot. Where other brands may have faltered, Hamilton succeeded in creating a dive watch by using what makes them special when compared to their corporate siblings. Hamilton was a successful and innovative American watch brand rich with history before becoming a part of the Swatch Group. As a result, for a sub-$1000 watch, the Hamilton Khaki Navy Scuba Auto offers consumers a good option if they value American design, a capable watch, and a handsome watch that is wearable. We shall now go over how Hamilton accomplished this.
Design Language:
Upon receiving this Hamilton I did not know what to expect. I had a short amount of time with it, and trying to form an opinion was a lot easier than I thought. Underscoring their American heritage through design principles championed by the States is how Hamilton has brought their dive collection into the fold. They did this a few years ago with their Bel0w Zero which used Art Deco 1920's design language. This watch was quite popular when released, but gained a second wave of marketability and adoration when it starred in the movie The Martian on the main character's wrist. According to legend, when presented with the catalogue of recent Hamilton releases, Ridley Scott and the propmaster gravitated towards the Bel0w Zero solely based on its design.
Across their catalogue, Hamilton even deploys slightly different logos based on which era of American design they are invoking in their timepieces. The Khaki Navy Scuba in this instance receives their H logo which calls upon the golden design era of the 1960s with its sharp and brutal lines.
Outside of the Swatch Group, Seiko dominates the dive watch space with their traditional designs and their utilitarian Tunas. Microbrands such as Nodus are doing a successful job of making the established players embarrassed in terms of price, functionality and most importantly, quality. While not necessarily trying to beat the competition in cost or functionality, Hamilton does so with design.
With the watch that is the focus of this article, Hamilton did this by using the 1950s and 1960s Atomic and Space Age design languages, while infusing some modern touches that echo other watches for their customers to aspire toward. We shall get to what watch that is after we go over the dial and the hands.
Dial & Date Wheel:
The review sample which I received came with the blue dial. This dial has a metallic finish which does what it is tasked with well, which is to be legible, and to appeal to the wearer in varying lighting. Alongside the mirror-finished handset and hour makers, this watch exudes a sense of luxury and a jewellery factor that balances well with the rest of the tool watch design.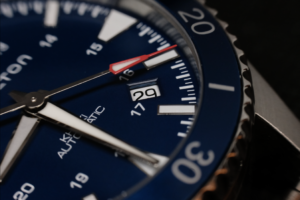 The decision to make the dial present as much information as possible was an intelligent one. First, it makes the watch wear like a more serious time-telling device. Second, with every second being divided into 3 with hash marks along the seconds track, and the addition of 24-hour markers above the hour indices has a surprising result. This is the concealment and elegant placement of the date wheel at 4:30. A lot of watch enthusiasts had expressed to me personally their hatred of the date window at 4:30. I do not use the word hate lightly here. Enthusiasts have rather violent feelings towards this feature, while every person whom I asked for impressions of the watch at random on the street didn't even notice the date wheel. This is just another example of a small yet very loud enthusiast community not necessarily representing the general public.
This is key, for I myself stopped noticing the date window after only about 20 minutes of wear. The window would only come to the foreground when I needed to recall the day. Overall this watch takes the route of time-telling by presenting as much information as possible in a directed and uncluttered manner like a tool, all the while retaining jewellery-like characteristics that make an appealing watch for times when one simply wants to enjoy the finer things in life, such as the applied logo.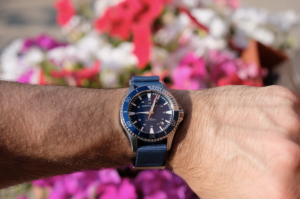 The hands of this watch are not only beautiful and highly legible, but an interesting case study in their own right.
Hands:
The hand selection of the Hamilton Khaki Navy Scuba are very interesting to those who pay attention to other offerings from the Swatch Group and to the dive watch market. The dive watch market is dominated by one watch, the Rolex Submariner. Not only is it arguably the most sought-after dive watch in our generation, it is certainly the most imitated. Swatch Group's competitor for the Rolex is the Omega Planet Ocean.
Omega has tried in various ways over the years to have a leg up technically on the Rolex to attract more buyers. This has been through a watch with a stronger feature set such as greater water resistance (600m vs 300m), the use of a manually operated helium escape valve, and the offering of more complications such as chronographs and more modern co-axial escapements. 
The Scuba's hands reiterate the hands on the Planet Ocean. This is not by accident. All that is different between the hands are the broad arrow tips on the hour and minute markers. Otherwise these hands are identical in design to the Planet Ocean's.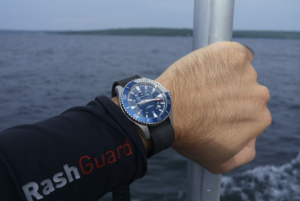 The great Nicolas Hayek made no secret that he intended to use the plastic Swatches to bring customers into their reach at an early age in order to have them as customers throughout their lives as their tastes and budgets grew. The Scuba also plays such a role. Costing nearly a tenth of what a Planet Ocean costs, watches such as the Scuba which are not drawing from a specific historical catalogue can do this when designed well. Rado has a tougher time filling this role due to their fantastic Captain Cook series and their well chronicled modern designs using exotic materials.
The use of these mirror-polished hands with a healthy amount of lume help engrain the design language of the Planet Ocean into the mindset of the consumer. The fact that every time a man attains a managerial role in his career, and rewards himself with a Rolex Submariner is often something that watch enthusiasts joke about. There is a degree of truth to this joke, and Swatch Group's global efforts across its brands to make the Planet Ocean such a watch is one that should not go unnoticed. They accomplished this to a degree with their product placements in the James Bond franchises, and they are subtly doing so here as well. Thus, by mirroring the design principles found in their more expensive offerings in their corporate catalogue, one day in the future the customer who is purchasing the Hamilton will consider the Omega when they can afford to do so.
The seconds hand tip is slightly enlarged and outlined in a brilliant and contrasting red, and once again the pointed arrow tip of the seconds hand closely follows that on the Planet Ocean's and many other Omega watches such as the Speedmaster. The lume glows blue with sufficient strength and should be enough to keep most consumers happy. Enthusiasts, on the other hand, would probably want more brightness and longer duration from this watch, but I personally never had an issue with the performance of the lume on this watch.
The Bezel:
There is the glaring omission as there is no luminescent maker on the absent bezel pip at 12 o'clock. I asked an owner of a watch brand how much a lumed bezel pip would add to the cost of the watch for the consumer, and he replied around $25 at the higher end of the spectrum. Personally I would gladly pay an extra $25 from a lumed pip for it was strangely absent on dark streets as I was out doing night photography. The decision to omit and refrain from adding the lumed pip is one that I understand, however.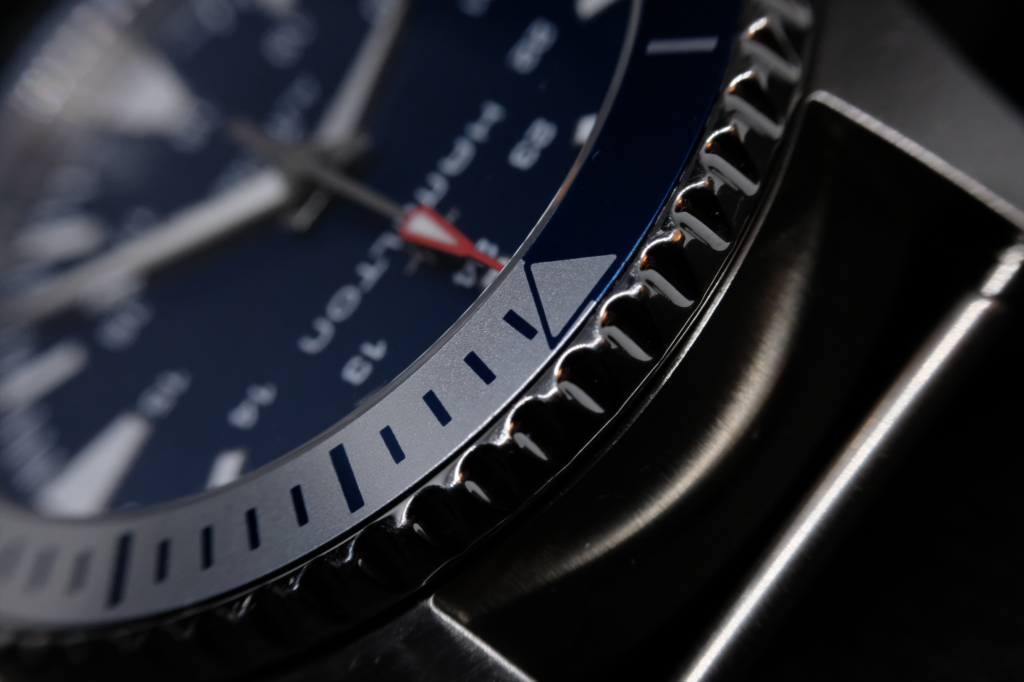 The target consumers for the Scuba are not watch enthusiasts, or even those who will take this watch diving. I did take this watch diving and the lack of a lume pip was never an issue. The target consumers for this watch either look for a watch of this specific aesthetic and land on their decision after somehow coming upon it, or those who see it in a display case in a department store. These consumers are typically not enthusiasts, and wear such watches as fashion accessories they can be proud of. By foregoing a lower priced watch such as an Invicta or a Daniel Wellington and jumping straight to a Hamilton is something that should not be overlooked. This watch retails for $895 Canadian, and that is a substantial amount of money. Consumers who choose this watch do so for the perceived quality and luxury one gets at this price point. They also get a very durable and capable dive watch as well. 
The bezel was a joy to operate. Every click felt strong and had minimal playback. Playback is a term used for any looseness in the bezel while turning it.
The aluminum bezel insert is an ideal choice for a dive watch at this price point for the bezel insert is relatively cheap to replace if damaged. Sapphire and ceramic bezels can easily cost hundreds of dollars to buy, never mind the servicing cost that goes into replacing the insert. The bezel is also surprisingly functional. The finishing has a reflective nature that catches light at almost every opportunity. Mainly being covered in a brilliant blue pigment which matches the dial perfectly in terms of colour and character, the silver or unfinished sections spring to life.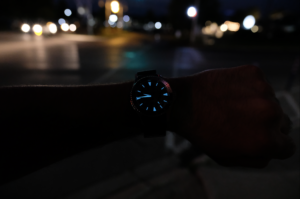 The uncoloured section covers from 0-15 mins on the bezel and its reflective properties almost negate the need for a lumed pip. This was especially the case when viewed while diving in dark conditions. While the blue sections of the bezel mirror the dial, the unfinished sections of the bezel tie the dial and bezel together with the case.
The Case:
At first glance, one might think that this case is not anything special and that Hamilton basically used a generic design and moved on. In reality the brushing beautifully blends in well with the bezel, and the corners are finished smoothly and pleasing to the touch. This case is finished in a brushed manner that does an admirable job fending off any hairline scratches. While on-wrist, the case gives a solid impression of not only a tool, but that of a tool that was meant to be worn in adverse conditions.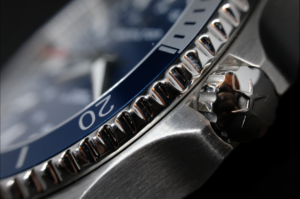 As a design exercise, this watch is a balance of tool watch aesthetics and that of a piece of jewellery. This can be seen in the beautifully and simply brushed case, and the flourishes of jewellery touches such as the dial and hands. This intelligent combination of approaches to designing one watch results in a timepiece that not only feels as if it is a watch of substance, but also one that one would cherish. 
The crown guards will help keep your cherished watch safe and they are executed in a fine manner. Their proportion and finishing are perfectly in line with the rest of the watch. They do not vie for your attention, but they do complement the piece's strengths in design. The screw-down crown always felt secure, smooth, and pleasant to operate. The crown has the same H logo as the dial, and this adds a little bit of flair to the profile view of the watch. 
The dimensions are classically perfect for modern dive watch. The bezel is 40mm, while the case with the crown is a manageable 43mm.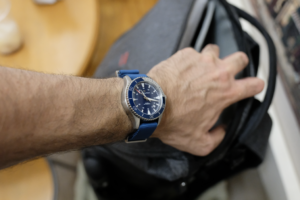 The dial itself is a very handsome and restrained 31mm and the overall thickness of the watch is 13mm. The lug-to-lug length of 50mm further adds to the wearability of this watch. I have a 6.75" wrist and the watch wore like a dream in all scenarios, whether it was on the stock strap, or at slightly more formal events with leather straps.
Strap:
The strap on this review example was a high-quality nylon NATO-style strap. This watch in particular had spent the previous few months in the hands of other reviewers and influencers and it had been worn hard.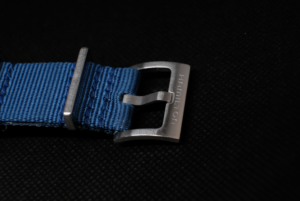 This strap was up to the challenge, and Hamilton went to great lengths to ensure that this strap lasts longer than a typical NATO-style strap. This is one of the benefits of seeing the watch new, and then receiving it for review after it had lived a very hard couple of months. The sizing holes are reinforced with a high-quality leather patch stitched onto the strap in a manner that indicates nothing but the highest level of attention to this specific part. I could see that this watch was worn by people of varying wrist sizes and the integrity of the sizing holes were not compromised in the slightest.
While the efforts made towards extending the life of the strap on the sizing holes were admirable, the tip of the tail of the strap had mixed results.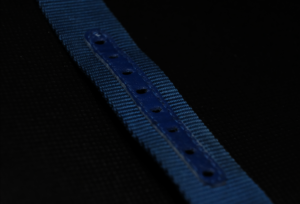 The tip of the strap has a metal end to protect the strap from fraying, and acts as a fastener through the metal keepers. This was not an issue for my wrist size, but this will pose an issue for some. There will inevitably be some whose wrists are an odd size which will result in the metal tip being aimlessly hanging off the strap. This would either be atop the second keeper, or between them. The tip itself is finished really well and does a perfect job of mirroring the brushed finish of the case. Hamilton chose to apply their full logo which has their entire name in the Art Deco-inspired font. For cohesiveness, the logo on the crown and the dial could have been chosen instead. I doubt anyone would take issue with the choice of logo here, and neither do I. Thankfully Hamilton offers this watch on a bracelet or a rubber strap as well for those who may either not like the NATO-style strap, or for those whom the strap end would not fit properly.
The common lug size of 20mm also makes this watch versatile when paired with aftermarket straps.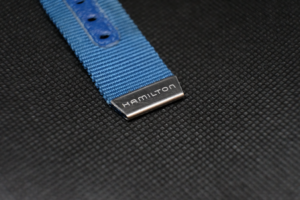 It particularly looks great on black, blue, and brown leather straps, easily making this watch slightly more formal than when worn with the standard offerings from Hamilton. It also allows for easy strap changes before heading out on a diving expedition, but we will go in to more detail as to how this watch is a wonderful companion underwater soon. This watch is also available in three additional colours, one being black, another being black with orange accents, and the last being black with blue accents. My favourite is this blue one. With a design that is executed with such a uniform character, it is easy to move throughout your life and most of its events with this watch on your wrist.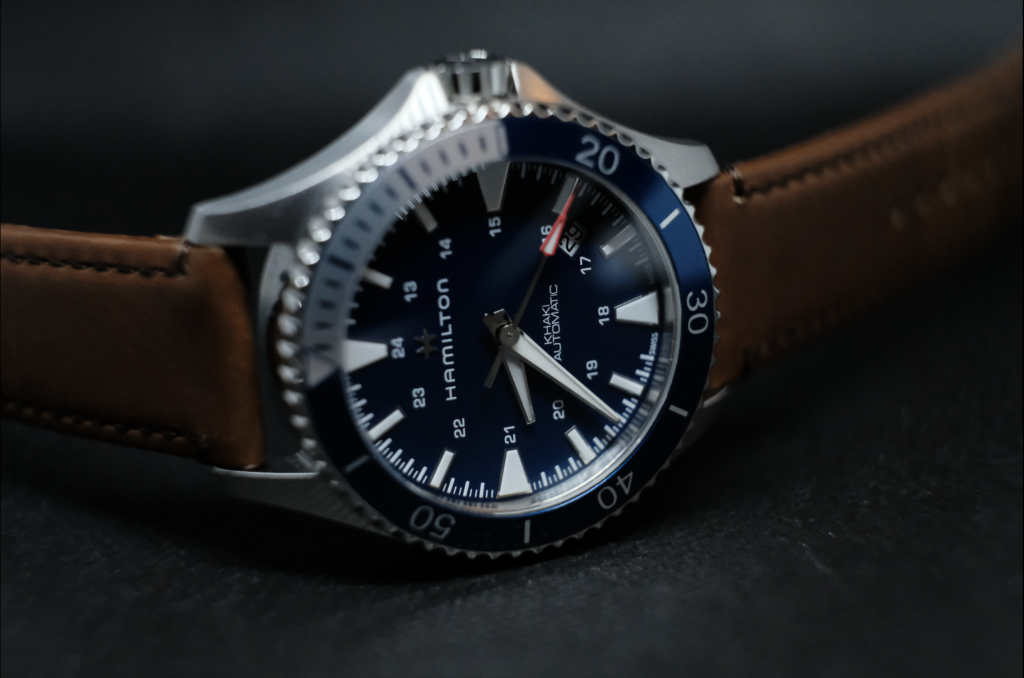 Movement:
This Hamilton is powered by the relatively new H10 movement. The H10 boasts an 80-hour power reserve on a single barrel due to having a lowered beat rate of 21,600 bph from the normal 28,800 bph standard as seen in movements such as the ETA 2824.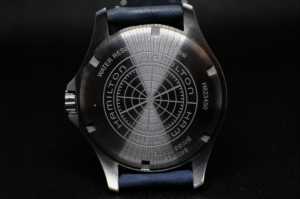 In practice this offers those who wear this watch in a rotation with a couple of other watches or only on evenings on weekdays for example, the added benefit of not having to worry about winding their watch and having to set the date. The second hand does not travel at a smooth rate however and this is amplified to the wearer by the oversized seconds hand. After a few hours of wearing the watch my eyes adapted to the second hand travel and I quickly appreciated the trade-off made for the greater power reserve. This particular watch was regulated to absolute perfection. It did not gain or lose any time while on my wrist so I cannot comment as to how a similar model will perform if bought from a store. I can say that it was a strong performer when worn during regular tasks, and this shows the potential of this movement when regulated by the right hands. This was also the case when the watch was subjected to a 20-minute light jog as I tried to outrun a flying dark cloud of bloodthirsty bugs in the marshlands of northern Ontario. 
There was one scenario which the watch faltered slightly, only to once again perform perfectly and that was during diving.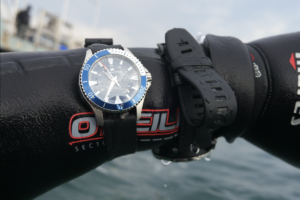 A friend of mine has the Certina DS PH2000 which uses the same movement. While my watch did not falter when forced to bear the shocks that came with a jog, my friend's watch did not fare as well. He did not jog, but he hiked along the trails of Scotland while on vacation with his family and he noticed that the watch was not keeping time as well as when it was living a more sedate existence. This proves that there is a lot more that goes into watch accuracy than simply what movement the watch has. Factors such as the mounting design of the movement onto the case, attention to regulation, and manufacturer variance all play a factor. A lot of watches at this price range from the Swatch Group have moved onto this movement going forward. From my experience this is not a bad thing. This budget-oriented movement provides admirable performance. All mechanical watches will exhibit some inaccuracy when subjected to any physical activity that is more aggressive than a power walk.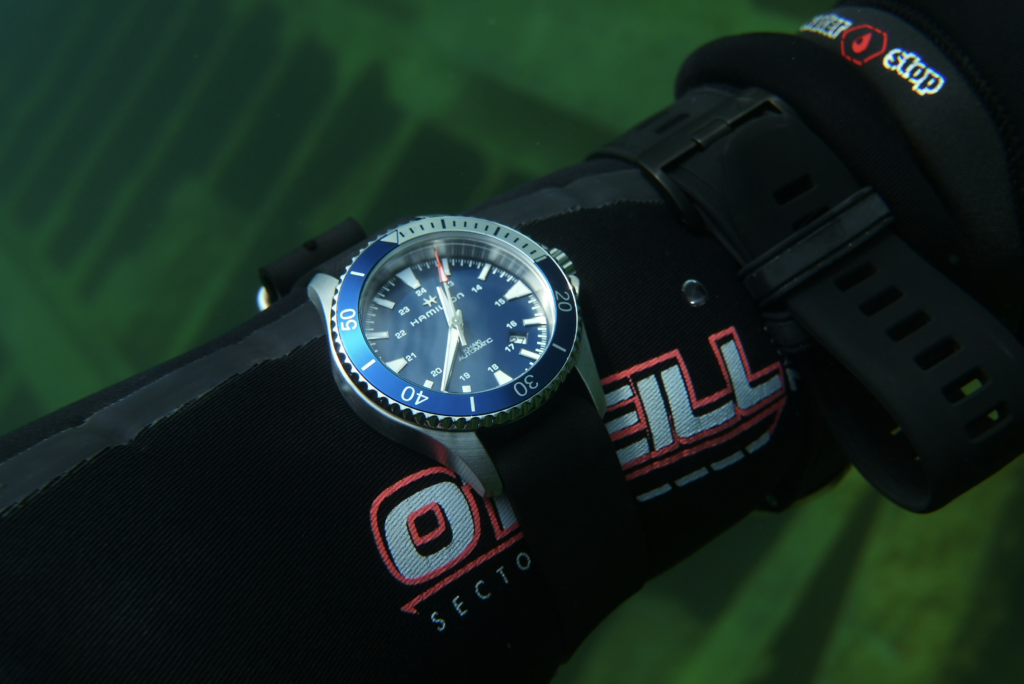 Performance While Diving:
The one time that the watch's performance suffered repeatedly was during diving. This was an issue that was not easy to diagnose, but thankfully a weekend with multiple dives and access to a private refrigerator helped. After my first day of diving I had noticed that the watch had gained anywhere between 1 and 2 seconds after each dive. The waters I was diving in were not that cold; they were around 12 degrees Celsius at depth at the very coldest. From my past experience with watches, this was not cold enough to impact the movement, its accuracy, and performance in such a manner. When I got back to my hotel, I reset the watch and placed it in the refrigerator for two half-hour sessions with the fridge set to 5 degrees Celsius. The watch did not gain any time, so this could only mean that shock was the culprit. Since I had taken the watch jogging earlier and its performance was unaffected, I was a little taken aback by this.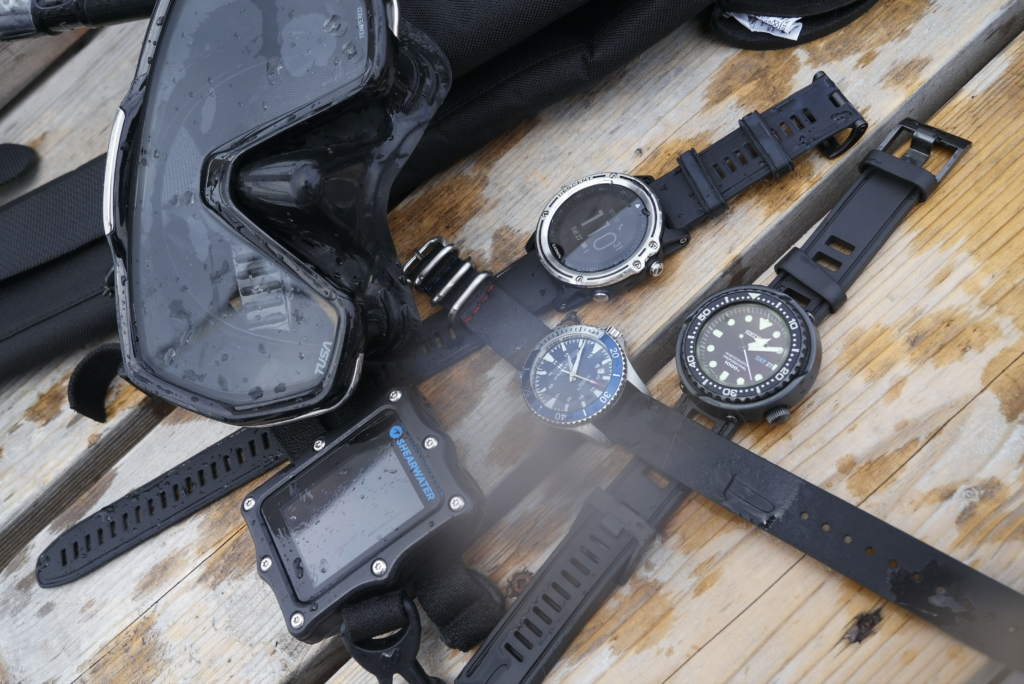 The following day, I noticed that after each giant stride off the boat, the watch had reliably gained 1 to 2 seconds after coming into contact with the water. A giant stride is the preferred method of leaping off a boat into the water while wearing all of your scuba diving gear. My left hand on each giant stride was shielding and protecting my underwater camera from the impact with the water. As a result, the Hamilton  on my left wrist took the impact of the water directly. There is nearly no way to prevent this for your arms are always exposed during the giant stride. I had not experienced this effect on performance with any other mechanical or quartz watch to date. 
As a result, I cannot say with any certainty if this watch is suited for diving especially for those who do so off boats. This may be a quirk that only my example exhibited. Without the opportunity to test multiple examples of the same watch, and all of them not coming from the brand, I cannot come to a conclusion regarding this movement's performance when subjected to diving. I can say, however, that this watch performed very accurately and consistently and I would not hesitate in recommending a watch with this movement to someone who will just wear it during regular daily tasks. To wear it during activities that are more intense and athletic might prove to create some problems, but I would still recommend this watch for those who may occasionally jog or dive with the watch. The water resistance of 100 metres proved to be more than capable of handling the limits of recreational diving, and the screw-down crown did its job well. 
The legibility of the dial, hands, and bezel were perfect, and in shallower waters their colour looked as brilliant as they did at the surface. The bezel design made for easy operation underwater with 7mm gloves, and with wet hands while on the boat.
The Intangibles & Wearability:
The Hamilton Khaki Navy Scuba Auto is a watch with a very precise purpose. Hamilton is not a watch brand historically known for its dive watches, yet here is this watch. Besides the awkward long name, Hamilton as of the last decade or so has somewhat struggled in building an identity for its dive watches. There was the successful Bel0w Zero that experienced a resurgence in popularity by being featured in the movie The Martian, but other than that, these attempts in their Khaki line alongside the recent Frogman fail to capture a brand image when it comes to dive watches. Omega has a long history of watches to draw upon, as does Rado with their Captain Cook series.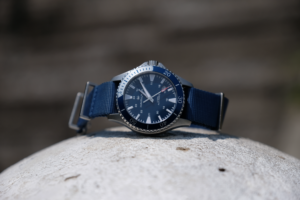 While I had this watch, I asked many people their impressions and the most thoughtful ones all immediately said that they thought that this was a terrific watch for a sailor. I found this repeated observation to be an interesting one, mainly because not a single person mentioned that it was a nice-looking dive watch. This is an example of the designers of a well made watch being smarter than most people, enthusiasts and myself included. Some enthusiasts blasted this watch for not being a proper dive watch because of its lack of lume pip on the bezel and for its 100-metre water resistance. For the record, most enthusiasts are under the impression that you need at least 200-300 metre water resistance for a watch to be a proper dive watch, and this is false. This watch was designed not to elicit fantasies of deep sea exploration, but that of warm weather and the freedom of simply relaxing by the water. 
Every single person mentioned that it is a great summer watch and one that belongs on a boat. I have to agree with them. This watch embodies a lazy afternoon and the luxury that comes with having such a command over one's leisure time. This results in a very charming watch that is calming to look at. Though the design may not be for everyone, I genuinely liked the personality of this watch and really enjoyed my time with it. 
Closing Thoughts:
My time with this Hamilton was a very positive one. It is a beautiful watch that is designed with a strong sense of direction. As a result, the design and proportions are all executed extremely well and it wears very well on the wrist. Most importantly, it does so while establishing the character which is so desperately needed for Hamilton within its dive watch collection. The charm of mid-century American design suits this piece well, and does a good job of tying back to the rest of Hamilton's catalogue which includes their famous Ventura line, Jazzmasters, and American Classic models. Though some of those models have direct descendants to draw their designs from, Hamilton has accomplished something which is rarely done in the industry in this price range. Hamilton has managed to create a new design legacy which is based on the prevailing and historic design themes that give this brand its charm and identity.
Being a part of the Swatch Group has many advantages and few disadvantages. One major disadvantage that many point out is the jockeying for position within the market and how that is handled amongst the corporation's large portfolio. Within grasp of Hamilton lie Rado, Tissot, and Longines which all offer similar watches for similar prices. It is easy for someone who has some basic knowledge of the industry to look at this timepiece and see it as a strict exercise in cost-cutting and building a watch to a price and not a standard. The lack of a lume pip and the watch costing just under $900 Canadian are the low-hanging  fruit that such observers will reach for. After wearing this watch, I do not see this watch in such a pessimistic light. When considering the entire watch and its design, this watch is one that looks and feels like it was a watch designed with a personality and character in mind, not that of simply meeting a price.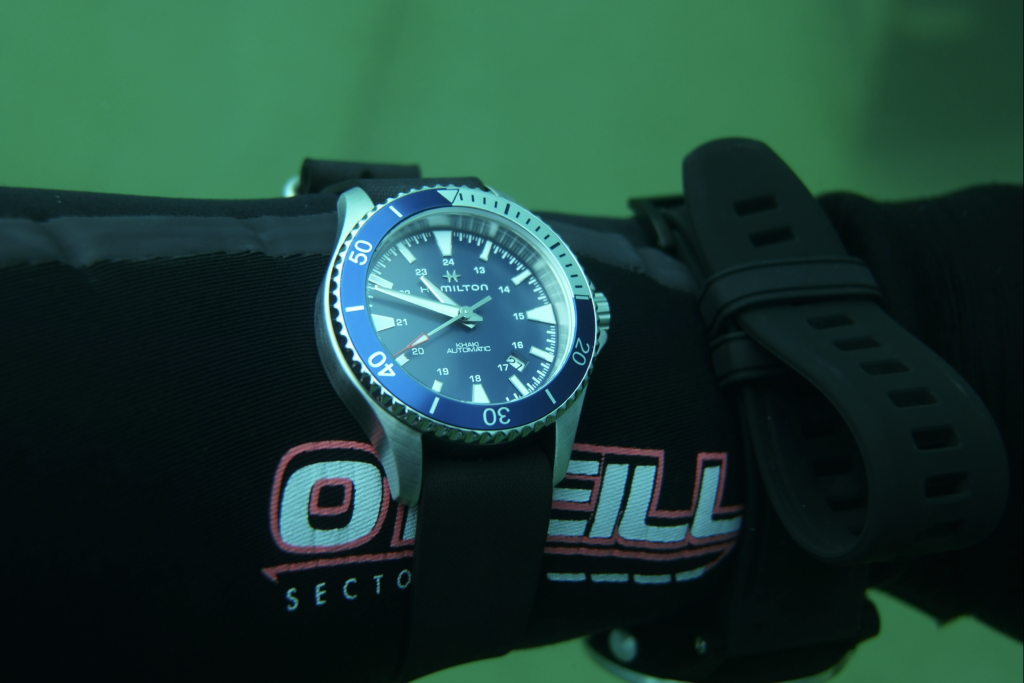 The last decade has seen a masterful execution of making the brand of Hamilton stand alone amongst the heavily populated field, and offer a cohesive and distinctive lineup. The addition of this Khaki Navy Scuba (albeit they really do need to find a better name for this model similar to the Frogman, which in itself is troubling because of the long-established Casio Frogman) was a very important and overlooked milestone for the brand. This watch has cemented the brand's image in the important genre of dive watches, and has done so perfectly. I applaud Hamilton for doing this and this is a watch that I would not hesitate to recommend to anyone who first likes the design, and second will not wear it during strenuous athletic activities. I recommend it with confidence, for after a week of having to give the watch back, I do miss it.