As the doorbell rang I could not believe how fortunate the timing was. I was scheduled to leave the house in under an hour to go up north for a dive, and my new Seiko dive watch had just been delivered from Japan. I quickly opened the box and immediately tried to change the strap.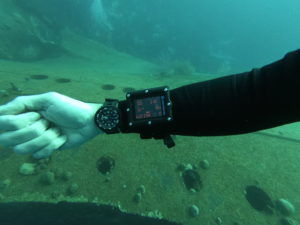 I originally had desired to put it on one of my rubber NATO straps from YellowDog Watchstraps, but I couldn't. The tight tolerances of the lug spacing and the thick Seiko spring bars didn't allow for the rubber straps to be threaded through. The stock strap provided from Seiko performed admirably. Its accordion-shaped strap effortlessly expanded and contracted with my exposure suit throughout the dives that day. I however wanted something a bit more rugged not only for diving, but for other activities that were far more demanding. Thus later that evening after my dive, I placed an order for an ISOfrane strap and a pair of wetsuit extensions.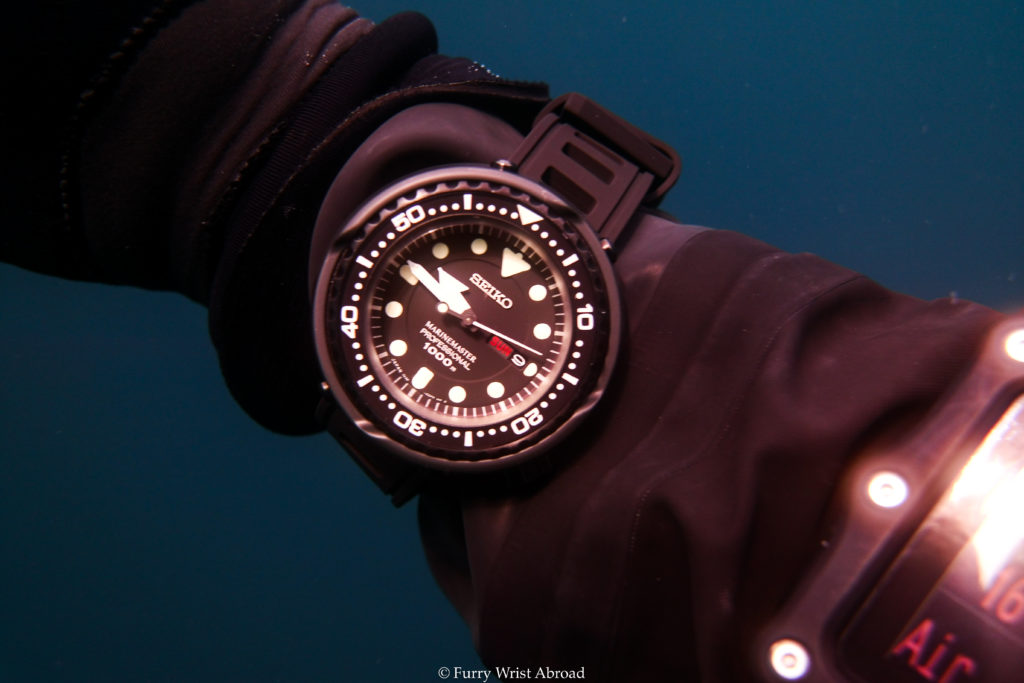 Quality & Durability:
The quality of these straps can be summed up in one word – superior. We shall go over the price later, and yes for this price these rubber straps live up to their perceived quality. It is the manner in which they are built and wear that makes them worth it. As soon as I put the strap onto my Seiko SBBN025 MarineMaster, a smile appeared on my face. Alongside my other dive equipment, my new watch fit in perfectly. The watch instantly felt like another dive instrument that I trust with my life, like my submersible pressure gauge. The rubber material, its thickness, and seemingly indestructible construction led to this impression.
The strap was stiff and stern when new, but soon wore into its comfortable and relatively soft state. The keepers which at first glance gave the impression that they are too soft and thin, are in reality perfect. They are rugged, yet thin and flexible enough to allow them to be fastened with a proficiency which is appreciated on a rocking boat. After many hours of diving and running, I never had an issue with this strap coming loose.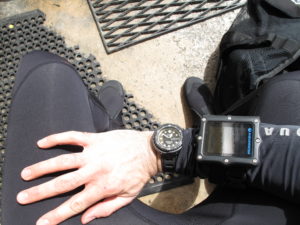 Lastly on the subject of quality and durability, the condition of this strap is immaculate after a year of constant and hard wear. When exposed to chemicals such as sunblock, bug spray, and cleaning supplies, the ISOfrane looked new after a simple rinse. Only the black buckle has some very small scratches on it, and a couple of the fastening holes reveal some superficial marks. This strap has endured a year of diving, road and trail running, weight lifting, and renovations, and it still looks and feels nearly new.
Intangibles:
Certain dive straps such as these ISOfrane straps are known to have a strong vanilla scent when new. Some people have disliked this and I tend to agree with them, but not in this specific case. Unlike other straps (such as those from certain Swiss brands), the vanilla smell of the ISOfranes dissipated after a few swims in lakes and pools. This was not the case with my Oris.
The smell on that Oris strap is so strong that it is not only distracting for the person wearing it, but for others in enclosed spaces such as cars. Those who have complained about the smell on their ISOfrane are simply not wearing the strap enough and are trying to fault with an immaculate product.
Performance While Diving:
The strap alone is fine for skin diving and for wetsuits up to 3mm for most wrists. For a wetsuit of around 7mm, a single wet suit extension strap works perfectly. When wearing a dry suit, a second extension strap is required. In all cases the strap felt supremely secure and never gave any cause for concern. The ability to simply attach an extension or two with this level of ease is highly appreciated when on a boat or when on shore in freezing temperatures.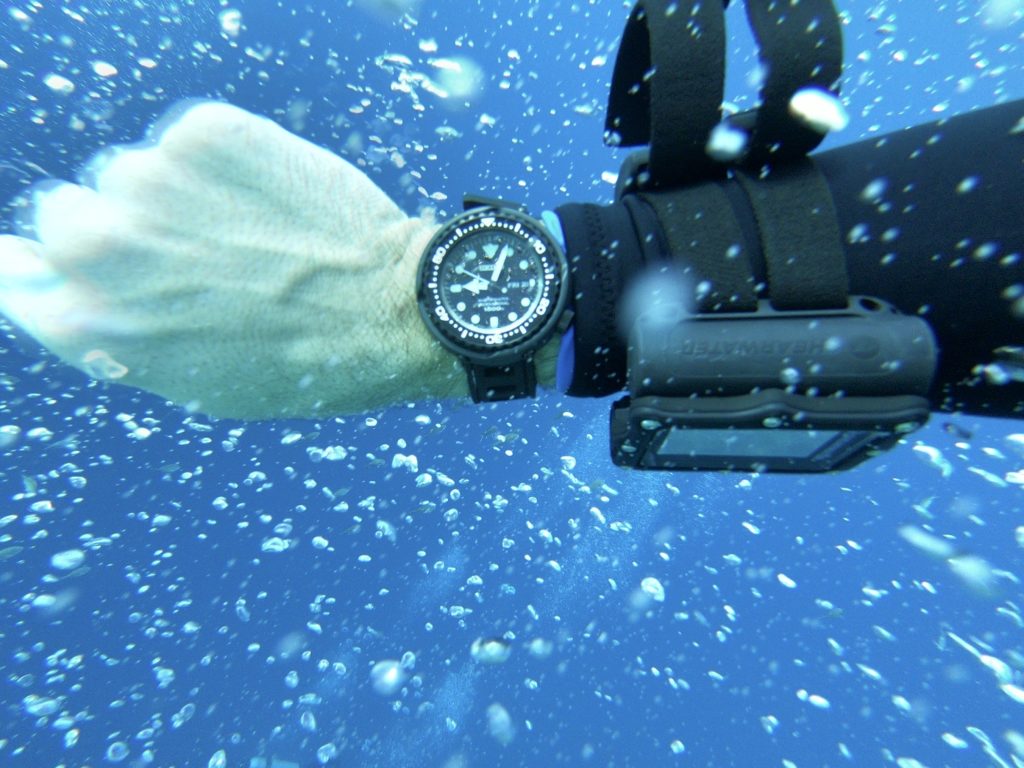 The overwhelming feeling of security of this strap makes it truly invaluable as a dive instrument. All dive instruments are subject to failures such as blown out O-rings on dive computers, or a regulator free-flowing due to cold water or malfunctions. A major point of weakness for a watch is the spring bar and the strap. The ISOfrane strap dismisses any concern of the strap failing, leaving only maintenance of the spring bars as a concern.
Price:
Ranging in price from $109-149 is understandably a lot for a rubber dive strap. There are many other cheaper straps from good companies which copy the ISOfrane design, and these may be a better option for some consumers. I have bought a few of them and I have given all of them away as gifts. I did this because their quality was simply not  the same as the ISOfrane, and had no place on my Seiko. Those cheaper straps will be fine for those who frequently change their strap to match their outfits.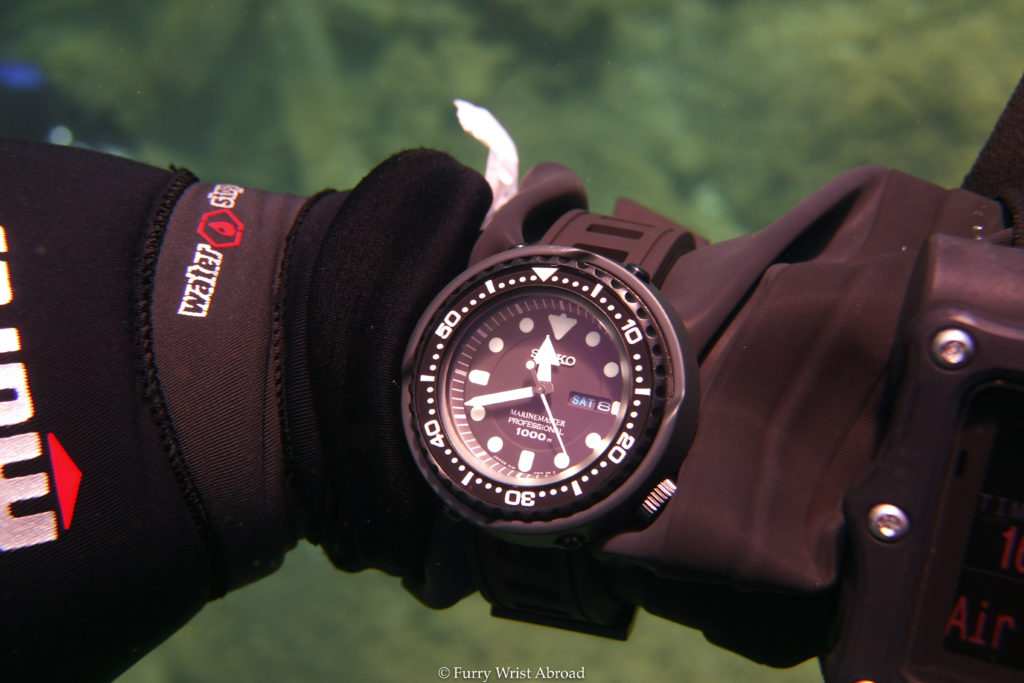 Ultimately this ISOfrane strap is for two types of people. The first are those with deep pockets who do not mind spending this much on a strap, and who like to have the very best. The second are those who wear their watch through strenuous activities such as running and moving heavy equipment. If you fall into one of these camps, I highly recommend these straps.