As always, I will leave out many details and spoilers from this wonderful work in this review. This way you can experience this book unhindered by my thoughts, fully under the guidance and care of Mrs. Power.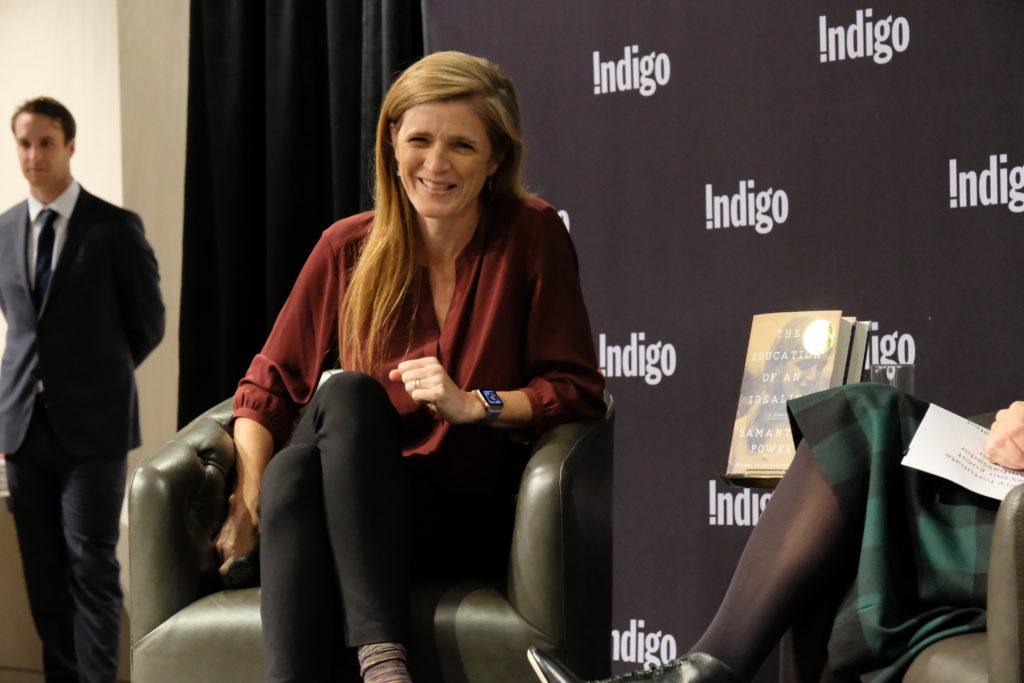 Memoirs are a genre of literature that never suffers from a lack of releases. It seems that everyone who can publish a memoir does so. Every once in a while, a memoir  comes along truly deserving of attention. In the autumn of 2019, we were blessed with releases from two formidable humans whose careers in public service were noteworthy and admirable. One was Susan Rice's Tough Love: My Story of the Things Worth Fighting For, and the other was Samantha Power's The Education of an Idealist. Having followed Mrs. Power's career and read her previous works, this title was easily my most anticipated release of the year. 
Mrs. Power continues to lead a career where she stands up for those who are marginalized, and especially for those under the threat of violence, whether this be her work at the UN fighting for the rights of the global LGBT community, her work bringing the Yazidi genocide to the forefront of the world's attention, or her tireless work as a young wartime journalist. Her work as a journalist resulted in her powerful book and must-read for every literate human titled A Problem from Hell: America and the Age of Genocide.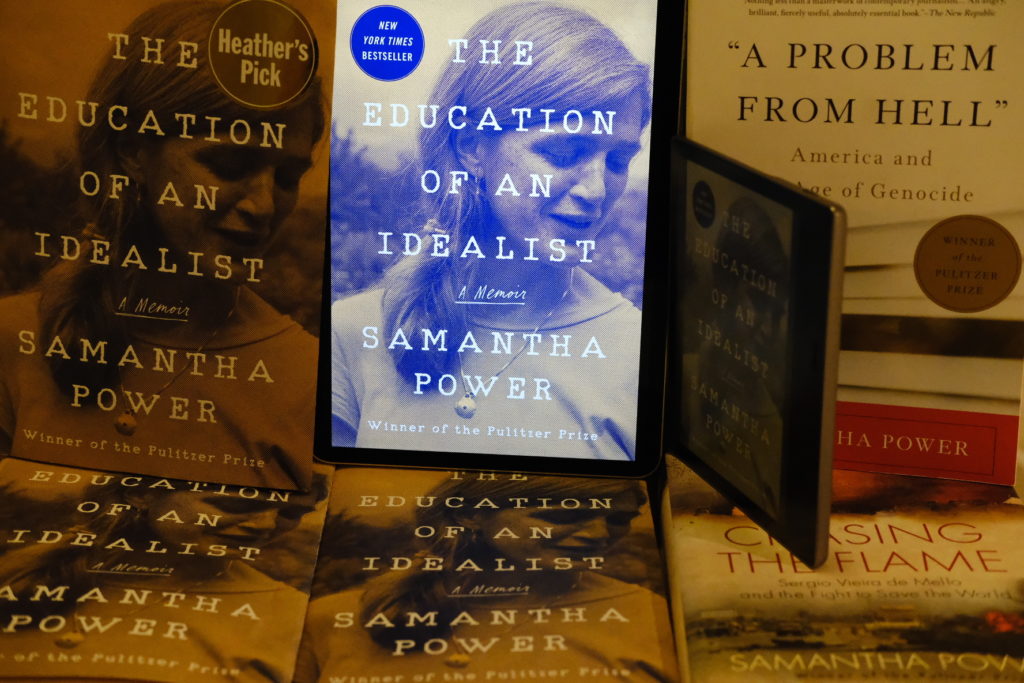 In her most recent title which follows up her spectacular work on the life of Sergio Viera de Mello, which will soon be a movie on Netflix, we follow Mrs. Power from childhood all the way to her role as US Ambassador to the United Nations. It is in this latter stage of the book which some casual readers may start to lose interest, and that is a shame. This is due to the rest of the book moving at a faster pace, and it suddenly slowing down seemingly to focus on her time as a public servant. In reality, the extra details about her daily challenges as an idealist working in office, and that of a mother, are immensely gratifying to read. If you are the type of reader who would struggle with such a change of pace, all you need to do is power through two chapters at the most to acclimate to the new flow of this important work.
The book naturally starts with Mrs. Power's childhood and her relationship with her parents and brother. Like the aforementioned book by her predecessor as Ambassador to the UN, Susan Rice, Power's early life had its rocky moments and parental conflicts. Growing up as a child in Ireland, Power was raised by a hard-working mother who is a doctor, and a charming father who was a dentist, and unfortunately an alcoholic. Power spent the majority of her early years with her father in an environment that foreshadowed the failing of her parent's marriage — a local pub in which her father spent a very large portion of his time. After a hard-fought battle with constant and draconian obstacles thrown in her direction by the Irish courts, Power's mother won custody after the divorce and emigrated to the United States. Once in the United States, Mrs. Power adapted to her new setting while keeping in touch with her father with trips back to Ireland until her father tried to keep her and her brother in Ireland. Soon after failing to keep them, he passed away and this had an immense impact on Power moving forward.
As she grew up and entered her adolescence, the love of sports drove Power toward being a sports journalist. After one night, however, her focus shifted toward making a greater impact with her writing other than offering a window into the world of sports. The evening in question was that of the 1989 Tiananmen Square protests, and this propelled the young Power toward becoming a war correspondent, which in itself lead to further steps to make a positive and impactful difference on the world. Such a position would concern her loved ones and present the challenges that one would naturally think of. For Mrs. Power, this period showed the challenges that a true idealist would face.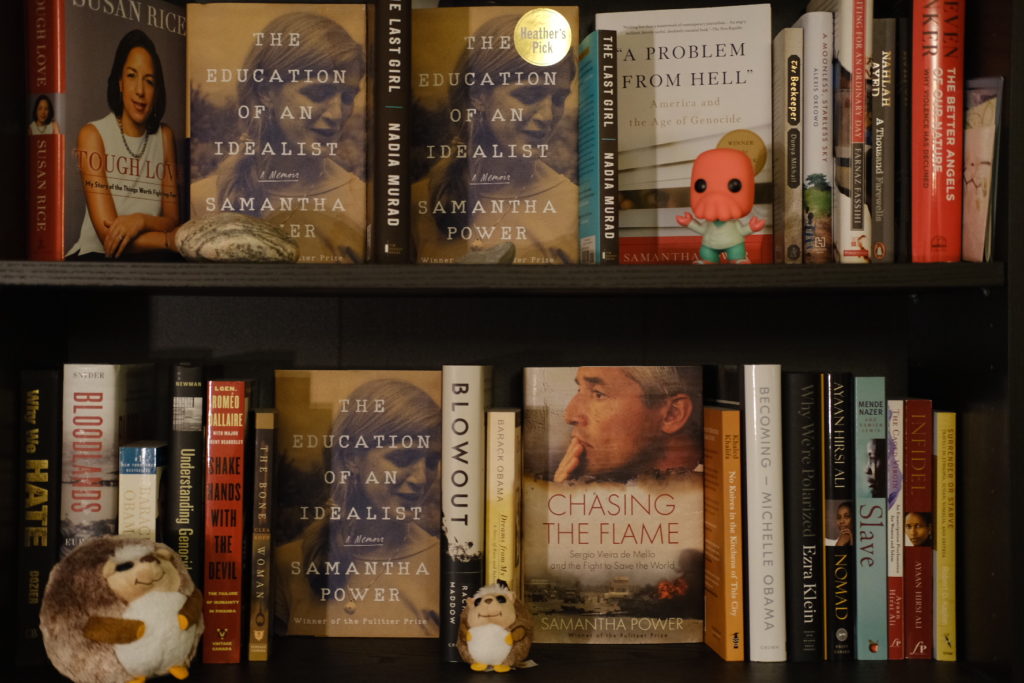 Mrs. Power's most notable work, A Problem From Hell, resulted from her time as a correspondent during the Yugoslav Wars from 1993-1996. This title won the Pulitzer Prize in 2003. Though this book gained the attention of the soon-to-be President of the United States Barack Obama, her experience in the Balkans truly propelled her into the possibility of holding a position of making a difference directly. As a journalist,  young Mrs. Power often looked at the motorcades of politicians move by and wondered why they would not just do the obvious and correct thing. More importantly,she wondered why they would not act quickly as there were lives lost on a daily basis. This motivated Power to become a lawyer and successfully complete her degree at Harvard Law School. This was the first time that her idealism was challenged and instead of giving up, or simply blaming the system, she worked hard to better herself and to give herself the tools to make the world a better place. This is one of the many ways that people like Mrs. Power are different than normal people. To have the drive to pursue a degree in law from a renowned school is no easy feat. It is a great feat to do so to make a difference and make the lives of those vulnerable better. 
It is at this point where the book truly takes off, when she meets and joins Barack Obama's campaign and eventually becomes his administration's UN Ambassador in 2013 after her work with the National Security Council. The first couple of chapters that transition into the more modern era of Power's life may initially put off casual readers due to its change of pace. Sticking with the book will reward such readers greatly as the reader is given a rare window into the world of politics from an outsider on the inside. Being a journalist and a writer who criticized the United States and other countries for their duties, Mrs. Power was not a safe choice, but definitely the right choice. Throughout her time in the UN, she made great strides in protecting the rights of the LGBT global community, the rights of refugees and the displaced, those under the threat of violence due to religious persecution, women's rights, as well as fighting hard to clarify and help failing states such as Syria and Libya. 
The reader is treated to seeing the daily tasks and responsibilities of a UN Ambassador, and how a uniquely qualified person such as Mrs. Power handled her position and the challenges presented to her. Unlike many who are constantly facing an adversary like how the United States constantly is at odds with Russia, Power managed to forge an earnest friendship with Russia's UN Ambassador Vitaly Churkin. The two Ambassadors from rival nations were continuously at odds, but through mutual respect, they stayed friends no matter how frustrating their positions were to the other. Perhaps Mrs. Power's idealistic nature once again shone through in such circumstances. Whereas another in her position would easily vilify the opposition, through Power's experience abroad, she was able to constantly adapt and empathize with another's viewpoint and decisions.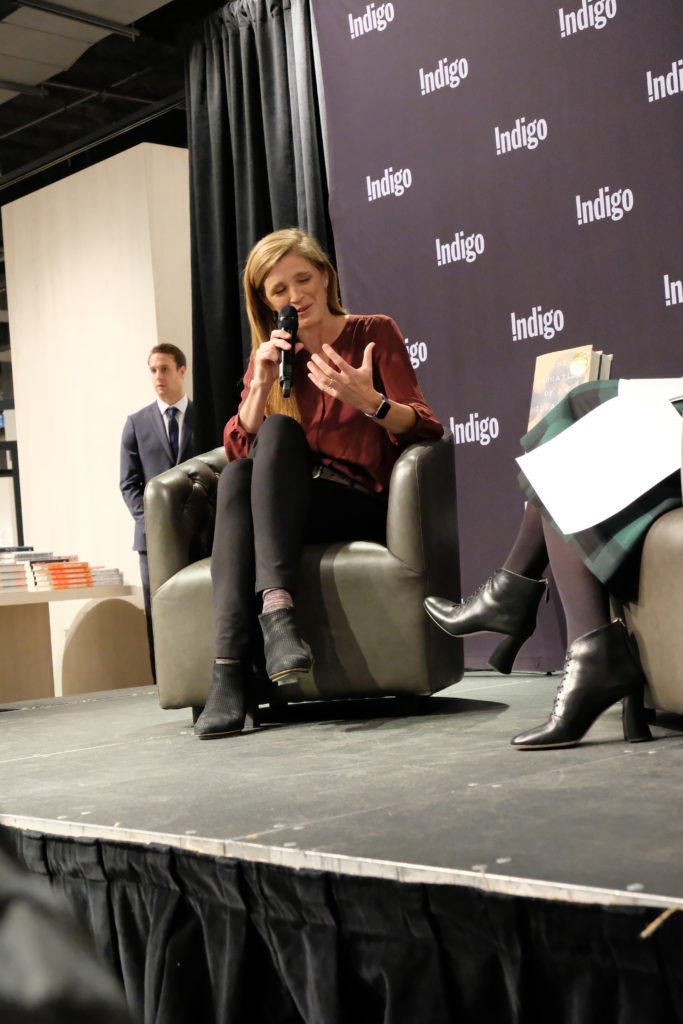 As an idealist who strives for what is right and in most cases extremely difficult, one might rely on one's friendship with others for help before seeing one's viewpoint and how such decisions may affect one's friends. One of the great joys of this book was seeing the relationship between Mrs. Power and President Obama. Exceptional people often share traits, and these two definitely exhibit similar habits on their path toward the world's stage. Mrs. Power writes about her "Batcave" which is a solitary space where she gets her work done. In Michelle Obama's outstanding memoir Becoming, she describes President Obama's private workspace affectionately called "The Hole." As friends, at times it was too easy to slip into her professional role and to ask the President for his attention on a matter, when all she wanted was a brief moment with a friend. Power expresses her remorse during these moments and Obama's calm, intellect, and sense of humour always managed to turn these moments into one where Power got to not only learn from her friend and mentor, but to gain an appreciation for those politicians in the motorcades earlier in her life. During the anniversary of the Armenian genocide, Power had made promises and worked her hardest to get the international community to recognize the atrocities committed on the Armenian people by the then- Ottoman government in Turkey. When Obama did not directly force the issue when speaking publicly on the matter, a furious Ambassador Power approached her friend about how he handled the situation. President Obama's response was eloquent, understanding, and illuminating as to why he did what he had done, and all of the factors in his decision-making process. I will not go into detail, for this chapter reads as one of the book's many quality climaxes that rewards the reader in an unexpected and highly valuable manner.
Closing Thoughts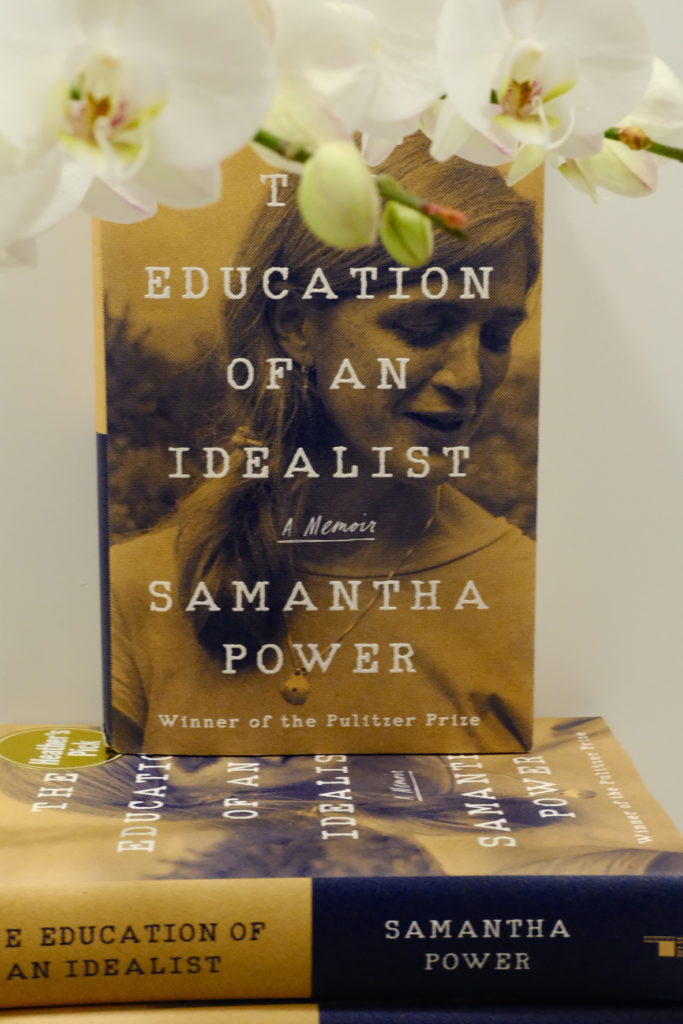 As dedicated readers, memoirs from authors offer us a highly treasured experience. Authors such as Mrs. Power naturally earn the trust and care of their readers for the gifts that their hard work have given their readers over the course of decades. It is easy to become invested in the wellbeing of writers such as Steven Pinker, Daniel C. Dennett, Ian McEwan, Miriam Toews, David McCullough, Richard Ford, and Salman Rushdie, to even those who frequent our morning papers. Memoirs such as The Education of an Idealist give the reader a glimpse into the lives of those who move us the most. Reading about Mrs. Power's terrific husband Cass and her truly remarkable children brings a joy to her readers that stays with you after completing this book. Mrs. Power went on a book tour to promote this book, and her stepfather and son accompanied her. Seeing the pride in her eyes as she thanked them as she addressed the crowd moved many,
The books which I review are done not because they are entertaining, or because I wish to project some internal values upon my readers. I review them to highlight a work that may improve the lives of readers, or to bring focus to a factor or a set of challenges that we currently face. It is my hope to inspire you through the work of such giants to not only improve yourself, but your community as well. I cannot think of a more capable and outstanding inspiration than Samantha Power, and that is why I wholeheartedly not only recommend this title but her previous works as well.